I've written about software stocks with negative earnings before, and the lack of growth is usually a bad sign. Zuora (ZUO) is one stock that came to my attention as it is "cheap"; however, the slowing growth is a concern. I wanted to do some due diligence to see whether or not this was temporary or symptomatic of larger issues.
Just a brief background on the company, Zuora is a cloud-based software-as-a-service company focused on an internet-based subscription business model. Specifically, the company's solution combines elements of customer management integrated with billing, payment, and revenue recognition all tailored for the subscription business model. Think of it as a light version of Salesforce (CRM) that does subscription business accounting really well as the company's bread and butter is their Zuora Billing and Zuora RevPro.
Unlike most traditional enterprise reporting software, Zuora is built from the ground up to handle the ordering, revenue recognition, and billing for the subscription business. Because traditional companies in the space like Oracle (ORCL) and SAP (SAP) were built to account for physical products, there are particular issues in the subscription business that current solutions cannot do well such as pro-rata billing, bundling, monthly/annual billings, tier system, or pricing based on the use of bandwidth or storage resources. Zuora has a user-friendly interface that allows its customers to immediately set-up the more complex billing systems specifically for subscription businesses. This is an advantage over its competitor's software which may require workarounds or are more cumbersome.
Zuora's Growth is Slowing
In terms of Q2 2020 results, like most SAAS in the industry, the company did well despite the coronavirus pandemic. However, not well enough as the stock sold off hard after earnings were released. Subscription revenues for the quarter were $58.3 million, an increase of 15%, and total revenues were $75 million, an increase of 8%. The company had gross margins of 56% and a loss from operations of $21.5 million which is a slight improvement over the loss of $21.3 million the year prior.
I can accept net losses in a software company that is trying to scale and expand. What I am worried about is the possibility of slowing growth. I am aware that the coronavirus pandemic is causing many firms to slash IT budgets and put projects on hold. I am not worried about this year as a short-term blip. However, looking at the company's 5-year growth history does not show an encouraging picture. After a great 51% growth rate in 2017, the growth rate has begun slowing down to 37% and 17% (in 2018 and 2019 respectively). As discussed above, 2020 could be another slow year as well.

Author calculations from Seeking Alpha
Zuora's slowing growth may be attributed to 3 key weaknesses. First, Zuora's system is hard to sell as a standalone service. As discussed, Zuora built its business on subscription billing management meaning its CPQ (Configure, Price, and Quote) offering is weaker than its competitors. CPQ is the software that enables the management of the sales and ordering process. The leading CPQ vendors include Salesforce, Oracle, and SAP.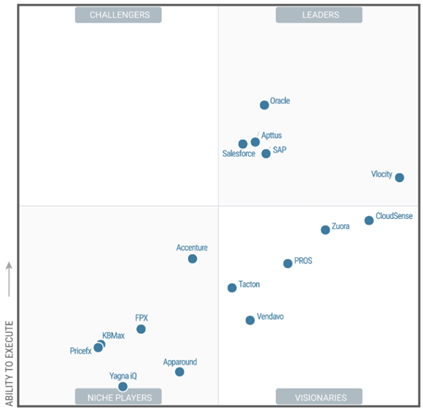 Source: Gartner Report
A lack of a strong CPQ capability makes Zuora's offering lacking for most enterprise-level customers. What usually happens is that enterprise-level customers have existing software such as Salesforce, Oracle, or SAP, and Zuora is sold as an add-on feature. This leads to the second issue in that most customers already have an existing CPQ and are managing their billing issues in-house with an in-house IT team or have some sort of manual workaround. While not as elegant or efficient, these solutions, usually, get the job done. In other words, Zuora might be having a hard time closing sales because its solutions only offer a marginal benefit compared to the workaround. Apart from costs, purchasing Zuora also involves a significant time commitment as well if you need to integrate it with an existing CPQ and business process.
CPQ is an add-on to billing: Zuora considers its CPQ product as an add-on to its two flagship products, Zuora Billing and Zuora RevPro. Organizations that are not interested in the flagship products should look elsewhere for CPQ.
Source: Gartner Report
This leads me to my third issue in that the subscription business is still in the nascent hyper-growth stage. Top management of these firms are focused on revenue growth and product launches not in cost-cutting. Projects like "upgrade the billing system" may not be top of mind. Zuora may be a little too early for the market.
Looking at the business, I have come to the conclusion that Zuora actually makes more sense as part of an offering of Salesforce or SAP and not its own standalone product. The company runs the risk of these providers like Salesforce, Oracle, and SAP improving their revenue recognition making Zuora redundant. The company needs to ramp up its sales quickly in order to be the de-facto market leader. However, it is unable to do so due to the issues I discussed earlier.
In terms of financials, the company has posted net losses for the past 5 years. Its cash flow from operations is a little better with the company turning cash flow positive in the first 6 months of 2020. The company has $6.8 million in operating cash flow. Given its cash position of $118.6 million, this implies a long run-rate without having to raise debt or equity. The company is among the "cheapest" in terms of price to sales relative to its peers. Zuora also has the lowest gross margins among its peer group at 51.4% making the scalability of its operations questionable. The company has a P/S of 3.4x which is "cheap" for a growing technology firm. However, due to its slowing revenue growth rate and tough market positioning, Zuora is a wait and see based on execution risk.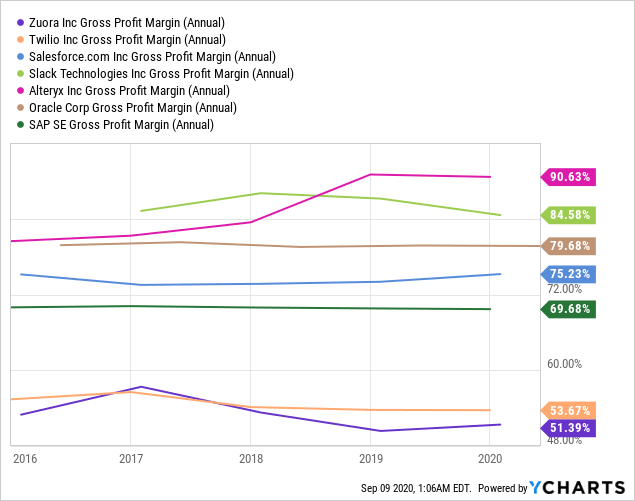 Disclosure: I/we have no positions in any stocks mentioned, and no plans to initiate any positions within the next 72 hours. I wrote this article myself, and it expresses my own opinions. I am not receiving compensation for it (other than from Seeking Alpha). I have no business relationship with any company whose stock is mentioned in this article.
Additional disclosure: Caveat emptor! (Buyer beware.) Please do your own proper due diligence on any stock directly or indirectly mentioned in this article. You probably should seek advice from a broker or financial adviser before making any investment decisions. I don't know you or your specific circumstances, therefore, your tolerance and suitability to take risk may differ. This article should be considered general information, and not relied on as a formal investment recommendation.