In the midst of COVID-19's panic selling, I published an article arguing that the impact of the pandemic on Visa (V) and Mastercard (MA) would be minimal compared to the overall expectations. As a result, I discussed why shares were trading at an attractive valuation, offering great total return potential.
Since then, Visa's shares have run by approximately 30%, greatly rewarding investors who doubled down on the fintech giant. Due to its full price recovery, however, the question arises of whether the stock still offers an attractive investment case, or whether its pricey valuation could limit future investor returns.
In this article, I will:
Go over Visa's latest transaction metrics.
Discuss the stock's valuation, expected returns, and intrinsic value.
Conclude why shares remain attractive, despite the stock's relatively high valuation.
Transaction metrics
In Visa's latest earnings report, the company recorded revenues and EPS declines of 17% and 23%, respectively. As expected, its processed transactions took a massive hit during the initial months of COVID-19's spread due to reduced consumer spending and stiff traveling restrictions.
Despite greatly reduced payment volumes, which bottomed during April, full recovery was achieved during June, boosted by an increase in debit transactions over credit ones.

Source: Earnings presentation
A few days ago, Visa updated investors on the company's recovery process, showing that processed transactions have actually returned to growth, boosted by card-not-present (CNP) transactions. Despite card-present transactions still being lower YoY during the months of July and August, online transactions have more than compensated for this decline, in line with the explosive sales we have seen reported by the major e-commerce companies.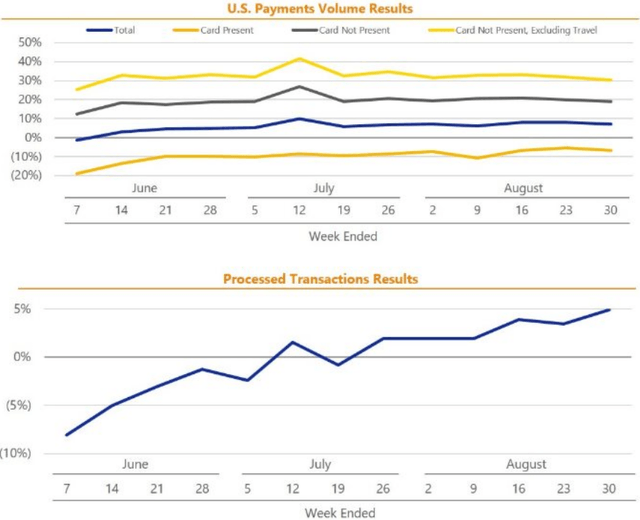 Source: 8-K
Keep in mind that the growth in processed transactions is really impressive, considering that cross-border transactions remain considerably depressed, as travel restrictions have overall remained strict. Total cross-border transactions remain around 25% lower, compared to last year.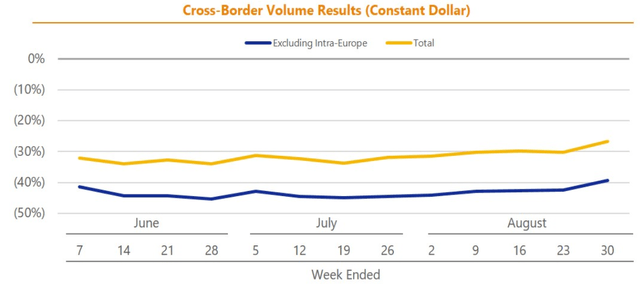 Source: 8-K
Overall, I believe that Visa's transaction metrics look very encouraging, with the pandemic mostly transforming its processing mix, rather than damaging the company and its long-term growth story.
For example, in August, total U.S. payments volume rose by 7% YoY, as a result of credit transactions declining by 8% and debit transactions growing by 24% during the period. Further, card-not-present transactions excluding travel grew by 30% YoY in August, against card-present ones declining by 7% YoY.
In other words, consumers just shifted their purchasing activity online. Further, the long-term effect in Visa's results may have actually been boosted. As consumers become more used to buying the majority of their goods online, Visa can charge higher fees, as CNP transactions are considered riskier.
More specifically, for debit, retail transactions, Visa charges a fee of 0.8% + $0.15. Meanwhile, for a CNP basic e-commerce transaction, Visa charges, 1.65% + $0.15. CNP transactions yield almost double the fees the company charges for basic retail transactions, and Visa just reported explosive CNP volume increases. With COVID-19 essentially boosting the continuous advancement of e-commerce against retail transactions, the effect on Visa's long-term cash flows has probably been considerably positively affected.
Valuation, future returns, and intrinsic value
Visa's quick recovery both in its share price and in its overall processed transactions is certainly pleasant. The shift of CNP transactions is likely to have a positive impact on the company's long-term revenues, and subsequently, profitability, exciting investors in terms of its future performance.
However, Visa's massive moat, duopolistic market power alongside Mastercard, and safe-heaven business model has caused the stock's valuation to undergo a long-term appreciation trend over the past decade. As investors rush towards Visa's exciting future and robust, margin-fat cash flows, shares have been becoming more expensive, currently trading at a last and next twelve-month P/E ratio of 38.3 and 37.2, respectively.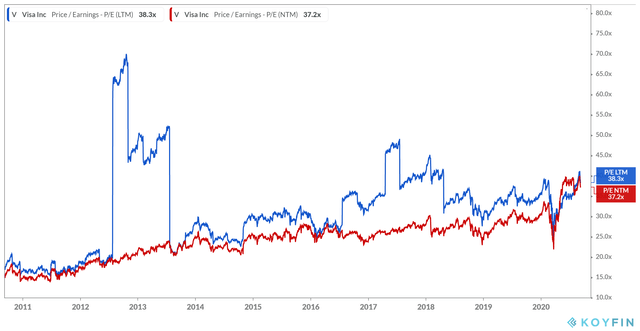 While shares have rewarded investors greatly over these years, the question arises if the future expected returns remain attractive, or if the current high valuation will eat a similar prospective potential away.
Consensus estimates for Visa's future EPS have been humbled as a result of the short-term headwinds. However, analysts still expect rapid growth over the next five years, with annualized EPS growth estimates of around 20%, over the next five years. In my view, such optimism in EPS growth is largely due to the shift towards CNP transactions, coupled with the company's existing organic growth and considerable stock buybacks.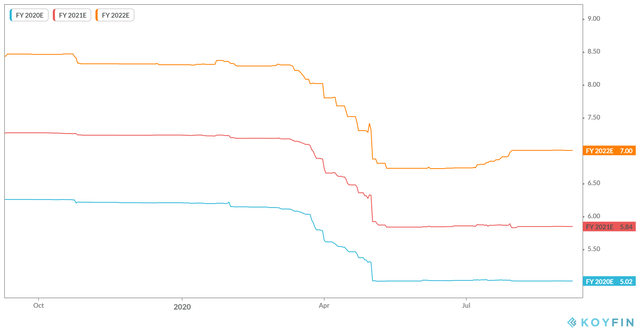 In any case, let's be more prudent with our future projections instead, in order to retain a wider margin of error. Assuming a more modest EPS CAGR (compound annual growth rate) of 15%, and a reasonable DPS CAGR of 20%, we get the following medium-term figures.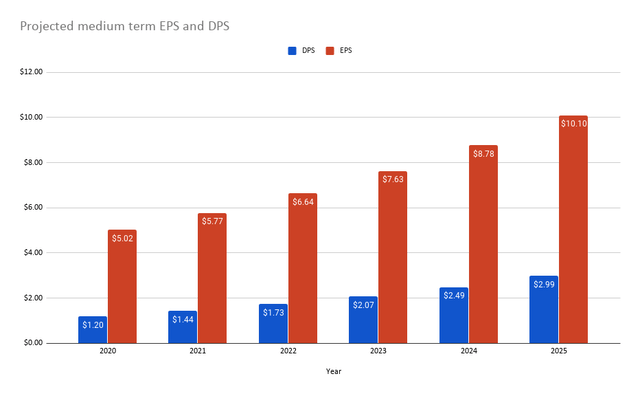 Source: Author
Now, to check whether Visa's current pricey valuation still allows for a juicy investment case, let's model the expected investor returns based on these estimates and different potential valuation multiples (assumes Visa's share price of $202).
As the table suggests, assuming dividends are reinvested, even if Visa's valuation significantly contracts towards a more reasonable P/E ratio of, say 30, investors would still enjoy nearly double-digit annualized returns. Should shares retain their current multiple, investors could be looking at exceptional returns, in line with our EPS growth estimates.

Source: Author
Next, to assess if shares of Visa are fairly valued, we will use the discounted cash flow model (DCF), using Visa's free cash flow generation.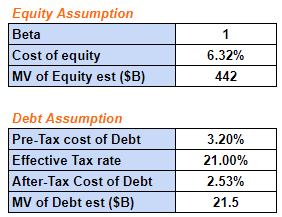 Source: Author
The company benefits both from a low cost of equity (due to ultra-low rates) and low cost of debt, due to its financial health, which allows the company to borrow on the cheap.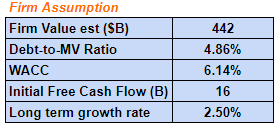 Source: Author
Assuming an initial free cash flow generation of $11B (Q3 FY2020 YTD of $7.7B), and a prudent growth rate of around 8% annually, medium-term FCF generation should look like the following: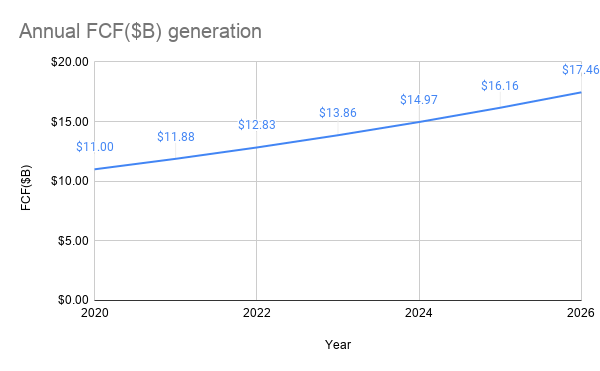 Source: Author
Plugging in the required numbers and discounting our cash flows, we come out with an estimated intrinsic value per share of around $231, which suggests that the stock is currently undervalued by around 15%, which in turn suggests a decent margin of safety for current investors.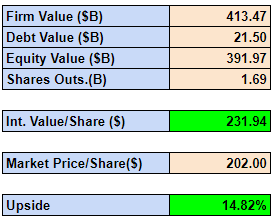 Source: Author
Conclusion and risks
Visa has been a beloved stock amongst investors for years. The most common question I see from investors is not whether Visa is a good stock to own, but which is the right price to add more shares or initiate a position. Buying at the right price is one of the most important factors that will determine a stock's long-term return potential, and no matter how much of a quality stock Visa is, the same reasoning applies.
The slump in transactions in the early months of COVID-19 has not only rapidly recovered, but CNP transactions have actually boosted Visa's processes. Combined with the potential to charge higher fees due to the boost in e-commerce sales, Visa's future prospects continue to present an exciting investment case.
However, investors must be aware that risks remain, in spite of Visa's duopolistic operations. Processing transactions is largely almost exclusively subject to consumer spending. So far, excess liquidity by the Fed has kept the economy afloat, maintaining robust levels of retail and online sales. However, the long-term effect of COVID-19 in consumers' purchasing power may have yet to appear, while the Fed's money-printing policy may not be sustainable in the scenario of another potential COVID-19 wave. Finally, analyst estimates partially assume that travel restrictions will eventually ease, which is also an uncertain factor, as the rate of new cases remains quite strong across the globe.
Overall, using prudent growth estimates, in my view, Visa offers an attractive return potential moving forward, despite its pricey valuation multiple. While shares may not look as charming as during March's selloff, I believe the stock remains a strong buy around the $200 mark.
Disclosure: I am/we are long V, MA. I wrote this article myself, and it expresses my own opinions. I am not receiving compensation for it (other than from Seeking Alpha). I have no business relationship with any company whose stock is mentioned in this article.