Investment thesis
Welcome to Orchid's Silver weekly report, in which we wish to deliver our regular thoughts on the silver market through the Aberdeen Standard Physical Silver Shares ETF (SIVR).
SIVR has weakened by roughly 5% since our last update (mid-August), confirming our cautious stance.
That said, the weakness in SIVR has been softer than our initial expectations so far. We attribute this to the persisting decline in short-term US real rates.
While gold prices tend to co-move more strongly with the long end of the US real yield curve, silver prices respond more to changes in short-term US real rates. In this regard, the 5-year US TIPS yield has not experienced a meaningful rebound, which has limited the sell-off in SIVR, in contrast with the 30-year US TIPS yield.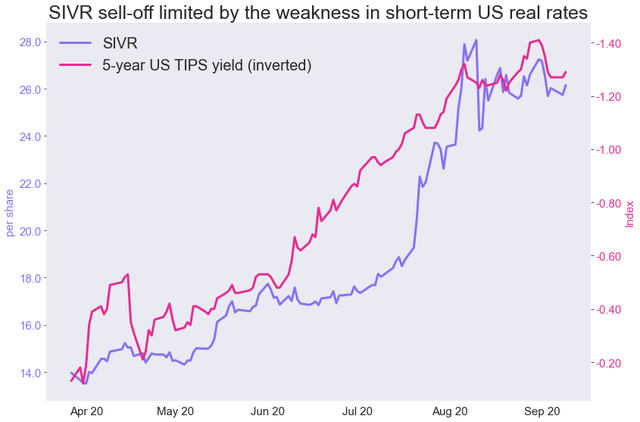 Source: FRED, Orchid Research
However, the dollar has strengthened notably of late, which could exert downward pressure on SIVR in
…
Read More