In the heat of the Summer, Dr. Tonya Blackmon, CEO/Founder of Conglomerate Empowerment, and her powerhouse speakers, turned the dial up a notch with her sizzling International Virtual Summit titled: "Secure Your Own Bag" this past August.  
As a highly sought-after Speaker/Webinar hosts, 2x Best-Selling Author and Business consultant, Dr. Tonya leverages more than 10 years of entrepreneurial experiences, global networks, and business savviness to help female-led Info Tech companies and tax-exempt nonprofits to secure contracts and grants.
Dr. Tonya's innermost desire is to provide a platform (www.drtonyab.com) for emerging business owners to network, thrive, maximize grants, and find their 'Wealthy Place!'
Each business leader offered invaluable business advice and wisdom to the event attendees and those who opted for the replay. (Still available for purchase.)
It's no surprise that Secure Your Own Bag received such amazing reviews from attendees.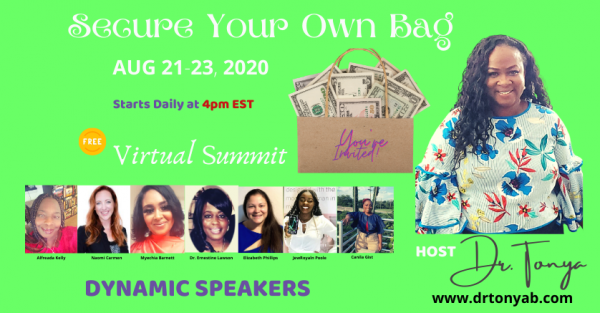 The Powerhouse event had an assortment of compelling topics
…
Read More