The New Braunfels business spirit still thrives despite COVID-19, and this year's Small Business Week observance will promote the way forward.
"I think we're seeing the light at the end of the tunnel," said Terry Muckenfuss, one of many small business owners who are leading their venues back after closures resulting from the pandemic. "We didn't make it through unscathed, but we're going to survive it."
Next week's Small Business Week will be more of a celebration of moving ahead instead of looking back.
"This year's observance is important now more than ever — we owe that to all of our small businesses and need to support them any way we can," said Stephen Brockman, Greater New Braunfels Chamber of Commerce's vice president of leadership and small business programs.
Small Business Week has its usual observance in late spring but this year moves to the third week in September. Since 1953, it has celebrated the country's entrepreneurial spirit and small business owners that Brockman called the backbone of the nation's economy.
"There are 30.7 million small businesses in America that are responsible for creating 1.5 million jobs a year," he said, adding the New Braunfels Economic Development Corporation (4B Board) said small businesses in Comal County employ more than 55,000 people.
"Any way you slice it, that is a powerful economic engine," he added. "Running a small business is an incredibly empowering endeavor. Owners have the satisfaction of bringing a product or service to market. They also feel the rewards of providing the opportunity to work and make a living for the local labor force."
Small business defined
Brockman's boss, Chamber President Michael Meek, aptly defined a small business.
"Nationally it is defined as 500 employee firms or less, but locally we have defined it over the years as 50 employees or less," he said in a May column appearing in the Herald-Zeitung. "The large majority of businesses locally and in most communities are made of businesses under 50 employees; in fact five or less. 
"This creates a unique set of needs for these entrepreneurs. They don't have specialized departments for marketing, finance, HR, legal, etc. When decisions need to be made, they make them. They unlock the doors each morning and evening, make payroll, pay the bills, employ our neighbors, contribute to local causes and non-profits and the list goes on and on."
Then came COVID-19, which led to a  business median revenue loss of $103,598, representing an average income loss of 63% of revenue between 2019 and 2020.
"Just when we thought 2020 was going to be remembered primarily as the 175th anniversary of the city, along comes COVID-19. Small businesses were a major casualty, especially the so-called "non-essential" ones. To the Chamber, every business is essential."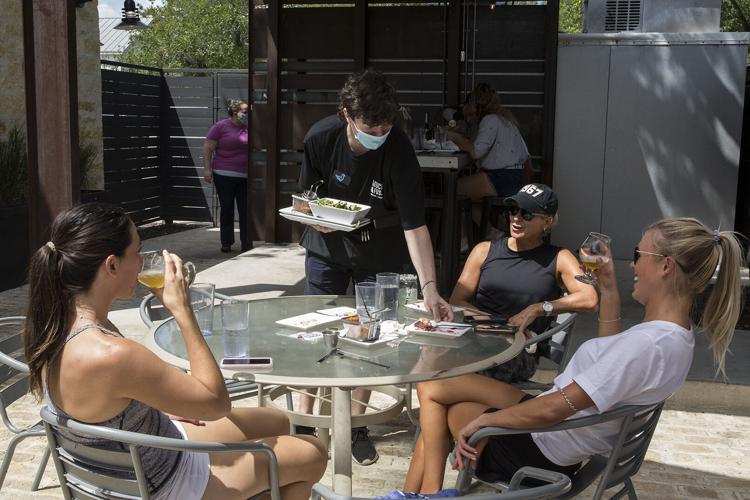 Emergency funding through the CARES Act and Paycheck Protection Program saved local businesses, along with additional help from the city's 4B Board. Recently, New Braunfels City Council members approved $597,262 in grant payments to 66 small businesses as part of the city's COVID-19 small business resource grant program.
"It's finding the funds that make their way down to the small business owners, and we're going to continue to see ways people help each other through this," Brockman said.
Muckenfuss, owner of Muck & Fuss Craft Beer and Burger Bar, said without emergency assistance he wouldn't have made it. 
"It kept everyone employed, especially through a few months that were really rough," he said. "Without that kind of assistance — and it's already been so devastating to so many other restaurants — we would have been walking a very thin line."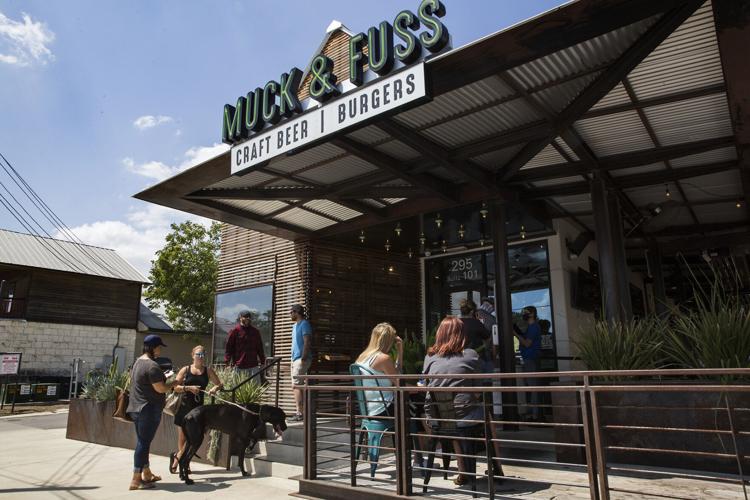 Easing restrictions, moving forward
The theme of this year's Small Business Week is "Act Big, Shop Small," and it got a big push on Thursday, when Gov. Greg Abbott eased up statewide coronavirus restrictions. Many retail stores, restaurants and office buildings now at 50% capacity will expand to 75% capacity beginning Monday. 
"We're definitely encouraged to see the governor has loosened restrictions," Brockman said. "It's a great sign that we've been doing right things around here and we have businesses that have committed to that end. We hope everyone continues to take proper precautions so that we can keep those businesses open."
Brockman said showing that support comes in many ways, adding not all require spending money. He suggests:
• Posting positive reviews through social media. Online reviews are a huge driver to consumer behavior and a great way to show your appreciation for a job well done. Think of it as a personal thank-you to the business which can brag to the world about.
• Give referrals. Most small business owners are the CEO, head of sales and customer service departments all rolled into one. Referrals can help them fill their sales pipeline and give them back valuable time to work on their business.
• Shop New Braunfels first — always explore local options when shopping. 
"The heart of our economy is in those small businesses," local Realtor Mark Hampton said. "That's what's important — whether it's in New Braunfels, Seguin or throughout the Hill Country. It (includes) the Mom and Pop shops and Realtors, who also own small businesses. Serving others is important — not only for you and your family but the entire community where we all love to live, work and play."
Brockman said the spirit of Small Business Week should be celebrated.
"Not every town is as lucky to have the really neat culture we have because of these local businesses and those entrepreneurs willing to risk everything for a dream," he said. "That adds to the culture of New Braunfels and need to encourage that spirit — it makes us who we are."