Investment thesis
Welcome to Orchid's Silver weekly report, in which we wish to deliver our regular thoughts on the silver market through the Aberdeen Standard Physical Silver Shares ETF (SIVR).
SIVR has weakened by roughly 5% since our last update (mid-August), confirming our cautious stance.
That said, the weakness in SIVR has been softer than our initial expectations so far. We attribute this to the persisting decline in short-term US real rates.
While gold prices tend to co-move more strongly with the long end of the US real yield curve, silver prices respond more to changes in short-term US real rates. In this regard, the 5-year US TIPS yield has not experienced a meaningful rebound, which has limited the sell-off in SIVR, in contrast with the 30-year US TIPS yield.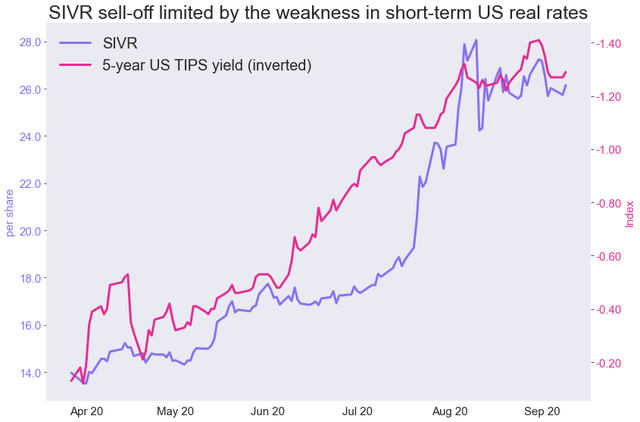 Source: FRED, Orchid Research
However, the dollar has strengthened notably of late, which could exert downward pressure on SIVR in the coming days and weeks.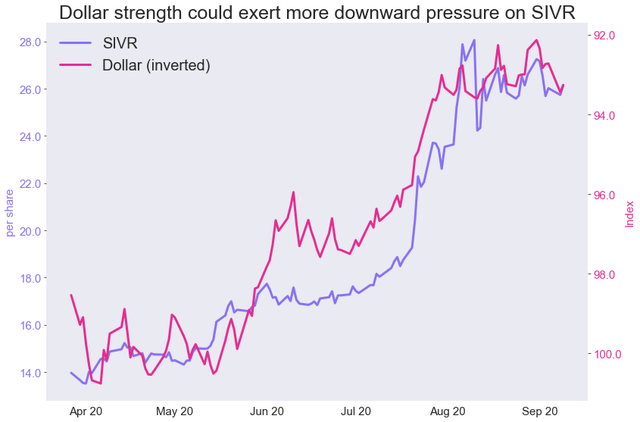 Source: Bloomberg, Orchid Research
Given the negative seasonality of SIVR for September and our view that US real rates could rebound on expectations for stronger economic growth in the very near term, we think that SIVR may experience more weakness by the month-end. This is especially the case considering that ETF investors have begun to take profit.
If we are proven right and SIVR comes under more pressure, we would be inclined to buy the dips in order to reinforce our long-term exposure to silver.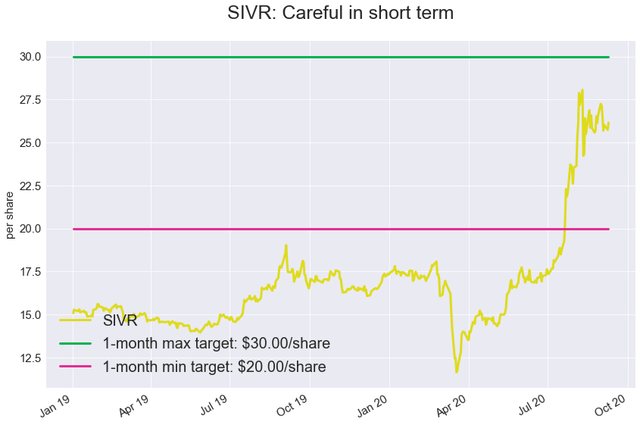 Source: Bloomberg, Orchid Research
About SIVR
SIVR is an ETF product using a physically-backed methodology. This means that SIVR holds physical silver bars in HSBC vaults.
The physically-backed methodology prevents investors from getting punished by the contango structure of the Comex silver forward curve (forward>spot), contrary to a futures contract-based methodology.
For long-term investors, SIVR seems better than its competitor SLV, principally because its expense ratio is lower (0.30% for SIVR vs. 0.50% for SLV), which is key to make profit over the long term.
Speculative positioning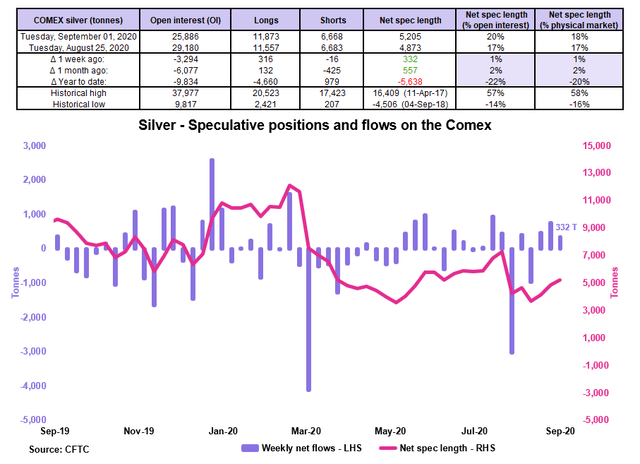 Source: CFTC, Orchid Research
The speculative community increased its net long position in COMEX silver in the week to September 1, according to the CFTC. This marked the third straight week of moderate speculative buying.
Despite the recent wave of spec buying, silver's spec positioning is still very light – the net spec length is at 20% of open interest, significantly below its all-time high of 57% of open interest.
If we are in a sustained bull market in silver – and we think we are, the net spec length should converge toward its all-time high.
This means that there is plenty of dry powder among the speculative community to deploy on the long side of the silver futures market.
Implications for SIVR: A more aggressively bullish stance adopted by speculators would result in an increase in net long positions in COMEX silver, which would push the COMEX silver price higher, thereby exerting concurrent upward pressure on SIVR.
Investment positioning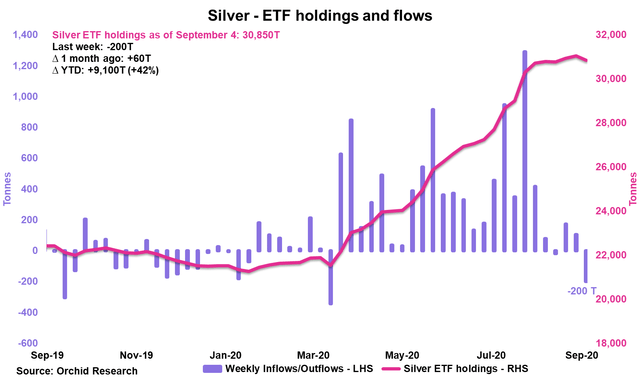 Source: Orchid Research
ETF investors cut 200 tonnes of silver from their ETF positions in the week to September, according to our estimates.
The pace of ETF buying slowed noticeably in August, resulting in a consolidation in silver prices. It seems that short-term market players are now inclined to take profit and unwind their long positions as the silver price momentum is no longer as good as it was a few months ago.
Implications for SIVR: The silver market is vulnerable to ETF outflows in the near very near term. A decline in silver ETF holdings would cause a decline in the COMEX silver spot price, which, in turn, would exert downward pressure on SIVR.
Gold:Silver ratio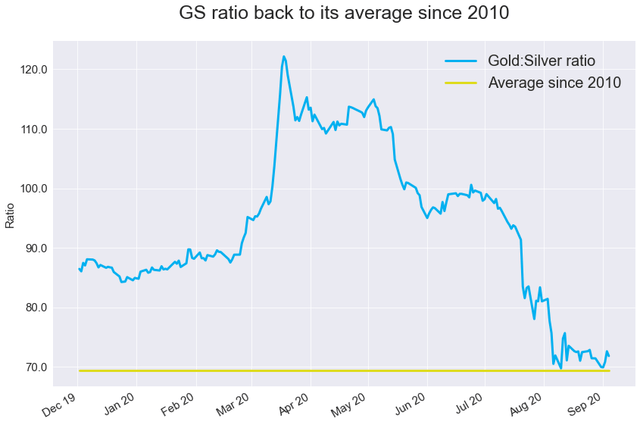 Source: Bloomberg, Orchid Research
The gold:silver ratio has now converged toward its average since 2010. That said, we think that the ratio could fall still lower in the final quarter of the year because commodities follow mean-reverting processes, which are often accompanied by overshooting around the mean.
This is relatively positive for SIVR, in our view.
Our closing thoughts
While SIVR has consolidated further since our last update, the consolidation has proven to be more modest than our initial expectations.
That said, we think that SIVR could be vulnerable to more weakness in the very short term (1 month), reflecting a negative price seasonality, a negative swing in sentiment among ETF investors (as momentum-based market players exit their long positions), and more upside in US real rates on expectations for stronger economic growth.
In this context, we are not in a hurry to buy the dips although we intend to do so later in the month in so far as we remain bullish on the precious metals space (including silver) over the long run.
Did you like this?
Click the "Follow" button at the top of the article to receive notifications.
Disclosure: I/we have no positions in any stocks mentioned, and no plans to initiate any positions within the next 72 hours. I wrote this article myself, and it expresses my own opinions. I am not receiving compensation for it (other than from Seeking Alpha). I have no business relationship with any company whose stock is mentioned in this article.
Additional disclosure: Our research has not been prepared in accordance with the legal requirements designed to promote the independence of investment research. Therefore, this material cannot be considered as investment research, a research recommendation, nor a personal recommendation or advice, for regulatory purposes.