Welcome to Orchid's Gold Weekly report. We discuss gold prices through the lenses of the Aberdeen Standard Physical Gold Shares ETF (NYSEARCA:SGOL).
Thesis
SGOL is presently pressured by the strength in the dollar and the rise in long-term US real rates ahead of the FOMC meeting on Wednesday, September 16.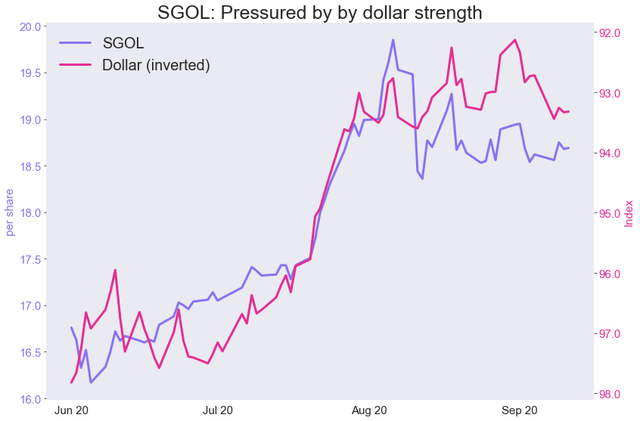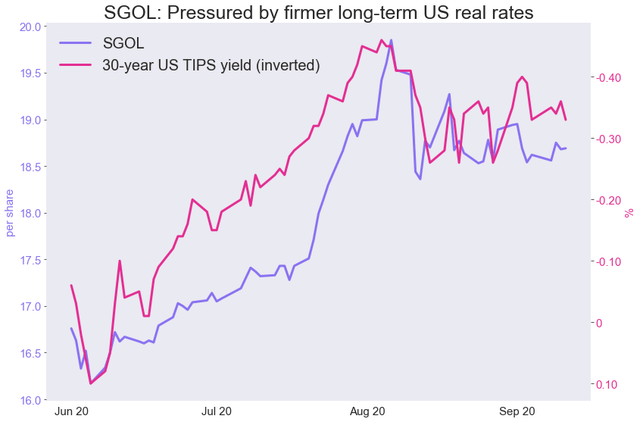 Source: FRED, Bloomberg, Orchid Research
While we expect the Fed to confirm its dovish stance by introducing its new policy framework to boost inflation. Nevertheless, we think that the market is presently focusing on the recovery in US economic growth, which should underpin upward pressure on the dollar and US real rates.
September tends to be a negative month for the gold price performance, which leads us to remain cautious for now.
We think that the consolidation in SGOL, which started early in August, is not over yet. That said, we do not anticipate a meaningful downside potential from the current price levels.
Since the outcome of the FOMC meeting is likely to elicit volatility in the gold market, we may take advantage of the possible intraday price weakness to implement a long position in gold.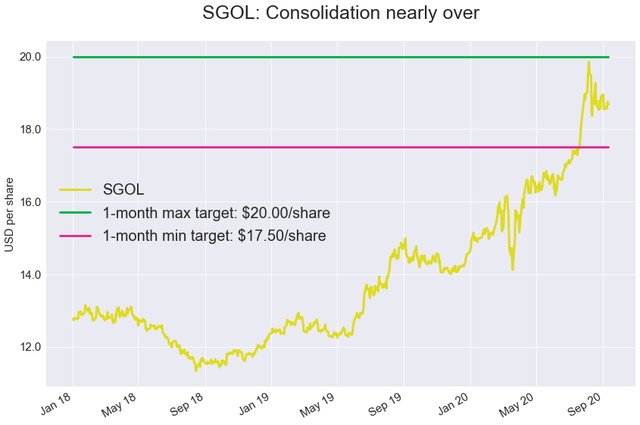 Source: Bloomberg, Orchid Research
About SGOL
For investors seeking exposure to the fluctuations of gold prices, the Aberdeen Standard Physical Gold Shares ETF is, in our view, a great long-term investment vehicle, with a small expense ratio of 0.17%.
The average spread over the past two months is at 0.07%, suggesting that the ETF is also well suited for investors with a short-term horizon.
Further, the legal structure of the Fund prevents trustees from lending the precious metal held in the Fund.
The Fund physically holds gold bars in vaults based in London (UK) and Zurich (Switzerland) custodied by JPMorgan.
SGOL's assets total $1.75 billion.
Importantly, SGOL, which was launched in September 2009, closely tracks its benchmark – the London PM fix for gold, as the chart below shows.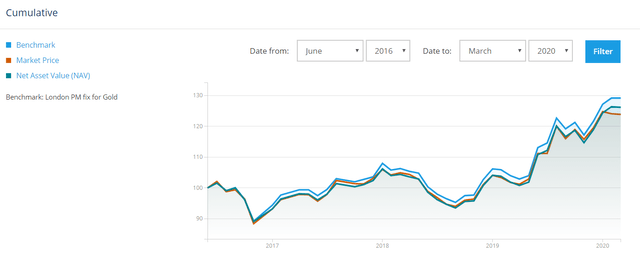 Source: SGOL
Speculative positioning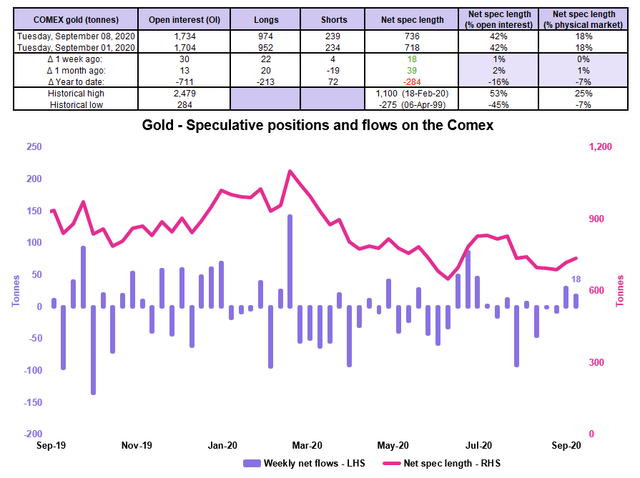 Source: CFTC, Orchid Research
The speculative community increased its net long position in COMEX gold by the equivalent of 18 tonnes in the week to September 8, according to the CFTC.
Speculative buying interest for COMEX gold has increased only moderately over the past two weeks, keeping the net spec length at 42% of open interest.
The current spec positioning in the gold futures market is not stretched and therefore suggests plenty of room for additional speculative buying in the months ahead.
But long-term US real rates may come under pressure for speculators to assert more meaningful exposure to gold. With the average inflation target (AIT) adopted by the Fed underway, we think that long-term US real rates may decline in the quarters ahead. This should therefore boost speculative buying for COMEX gold.
Implications for SGOL: We expect an eventual increase in net long speculative positions in COMEX gold due to a positive macro environment, which should exert upward pressure on the COMEX gold spot price, which, in turn, should push SGOL higher.
Investment positioning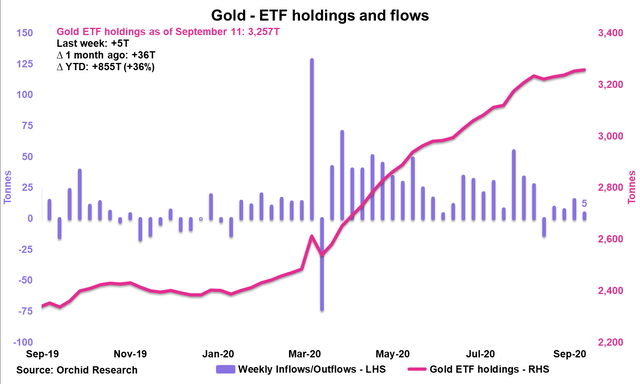 Source: Orchid Research
ETF investors added five tonnes of gold to their positions in the week to September 11, according to our estimates. This marked the fourth consecutive week of inflows.
The pace of ETF buying for gold has slowed in recent weeks, which could suggest that most investors have already built positions.
As we noted last week, a continuation of the consolidation in gold prices could prompt some (short-term oriented) ETF investors to exit their positions, which could result in further downward pressure on gold prices.
Over the long term, however, we expect investment demand for gold to continue to grow in the current macro environment typified by growing (political, geopolitical, and economic) uncertainty.
If the Fed manages to meaningfully boost inflation expectations with its new policy framework, investment demand for gold may increase at an even stronger pace.
Implications for SGOL: In the short term, SGOL is vulnerable to ETF outflows. But in the long run, ETF flows are likely to be supportive of SGOL.
Closing thoughts
While we think that the consolidation in SGOL is not totally over, we do not see substantial downside potential from here.
We may take advantage of the possible surge in volatility caused by the FOMC meeting to implement a long position in gold this week.
We view the macro environment as positive for investment demand for gold in the long run. Regardless of the Fed's AIT success, macro uncertainty is high and warrants firmer demand for protection, hence our expectations for gold to continue to become increasingly popular among portfolios.
We set a minimum target at $17.50 per share over a one-month horizon.
Did you like this?
Click the "Follow" button at the top of the article to receive notifications.
Disclosure: I/we have no positions in any stocks mentioned, and no plans to initiate any positions within the next 72 hours. I wrote this article myself, and it expresses my own opinions. I am not receiving compensation for it (other than from Seeking Alpha). I have no business relationship with any company whose stock is mentioned in this article.
Additional disclosure: Our research has not been prepared in accordance with the legal requirements designed to promote the independence of investment research. Therefore, this material cannot be considered as investment research, a research recommendation, nor a personal recommendation or advice, for regulatory purposes.