OneSoft Solutions (OTCQB:OSSIF) (TSX:OSS) provides cloud-based data analytics using artificial intelligence and machine learning to forecast pipeline failure for the oil and gas industry. The lead product, Cognitive Integrity Management ("CIM"), was commercially introduced in 2018 for non-piggable oil and gas pipelines. The majority of the oil and gas pipelines in the U.S. are non-piggable. OneSoft has been using data from piggable pipeline and from direct assessment of non-piggable pipeline to develop a non-piggable solution and recently announced that they are ready to introduce data analytics for non-piggable oil and gas pipeline.
In this article, I will provide a brief background and focus on how management has steered the company to disrupt the oil and gas industry, capture the tailwinds, and begun work for future expansion into lateral industries. Please refer to previous articles and information released directly by OneSoft for background details.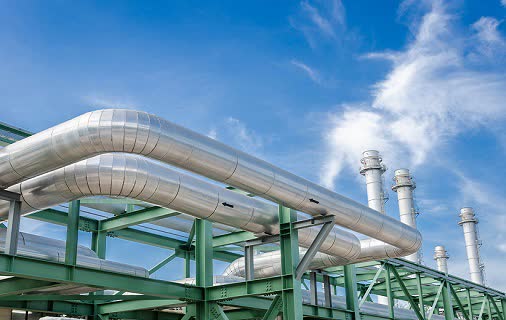 Source: PMHSA
The Problem
The Pipelines and Hazardous Materials Safety Administration ("PHMSA"), the U.S. pipeline regulatory agency, reports that O&G pipeline accidents occur on an average of almost 2 per day costing about a half a million dollars on average as well as creating environmental problems and causing human injury and casualties. The O&G industry has relied on Pipeline Inspection Gadgets (PIGS) to collect data on Excel spreadsheets which are reviewed by pipeline integrity engineers to detect pipeline failures.
There are almost 3 million miles of O&G pipeline in the U.S., which represents about 2/3 of the total oil and gas pipeline miles in the world. 2.1 million of the U.S. O&G pipeline miles are not piggable because they are too small or have curves that a PIG cannot pass through.
The Solution
CIM instantly reviews millions of data points while engineers review less than 3% of the data over a period of months. CIM is cheaper to run than paying engineers and more efficient as there have been no reported accidents in any pipeline under contract. A major distinction between the methods used by traditional pipeline integrity methods and CIM is that the traditional methods are better at finding existing than they are at forecasting leaks while CIM is all about forecasting.
Tailwinds
The availability of a non-piggable solution will increase OneSoft's addressable market by a wide margin and there are several other favorable factors in play.
The O&G industry has been a laggard in adapting to the digital transformation but this is changing as the industry is acknowledging the cost savings and improved efficiencies that are available. OneSoft has altered its sales strategy in order to gain new customers:
Identifying the O&G companies that have already implemented some type of cloud solution in their operations and initiating direct sales efforts to these companies. At this time, companies owning about half of the U.S. O&G pipelines are either under contract, on a trial run, or somewhere in the OneSoft sales channel.
O&G companies that have not yet utilized digital services are being contacted by OneSoft's partner, Microsoft

(NASDAQ:MSFT)

, for introduction to the digital world.
Management has realized the willingness of customers to pay premium prices for customized solutions and is now offering an a la carte menu.
Management has learned that once a customer signs on for one function, they tend to add on more services once they are familiar with how it works.
OneSoft has expanded its sales efforts on an international basis where previously they were focused on solely North America.
The company has created a white-glove program for smaller tier-2 customers who are unable to otherwise afford CIM services.
The company has created a separate division named Innovation Lab which is designed to explore and capture other opportunities such as other pipeline types beyond O&G and special projects that would otherwise distract the company's main focus.
New legislation from PHNSA, which has been pushed back to later in the year due to COVID-19, calls for a widening of pipeline data analytics usage in the O&G industry.
O&G companies are reluctant to give out control of their pipelines and tend to use pipeline integrity companies on a piecemeal basis. Pipeline integrity companies have been developing their own machine learning, A.I. cloud solutions but are unlikely to ever be able to obtain the wealth of data that OneSoft has been able to amass unless they are able to obtain a partner that is willing to share 100% of their pipeline data as OneSoft was able to do with Phillips 66 (NYSE:PSX), and then build on that data library by the addition of new customers. Should a company be able to obtain sufficient data, it would then need a couple of years to develop a solution. I believe that existing O&G pipeline integrity companies cannot compete with OneSoft and are likely to go out of business.
The Stock Price is Rising From The Doldrums
The stock price has likely been depressed by low oil and gas commodity prices and the lack of any new customers in about a year. OneSoft is not impacted by commodity prices as oil and gas continue to be transmitted through pipelines regardless of price. Sales activity has been slowed down by the pandemic and should pick up shortly.
Management had guided for a doubling of year over year revenue for this year prior to the pandemic but due to the uncertainties that currently exist, the current forecast is solely that third and fourth quarter revenues to likely be higher than second quarter revenue. It is revealing that when the original guidance was provided it included revenue from new customers which leads me to believe that new customer wins are forthcoming. Management further hinted in the second quarter earnings release that new customers are expected before the end of the year.
The stock chart demonstrates that investors are seeing the positive developments as the price has crossed above the declining 200-day moving average with the 50-day moving average soon to follow.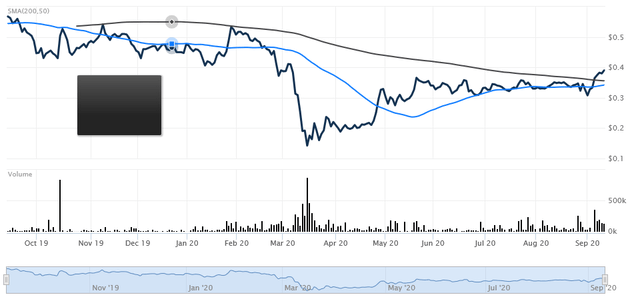 Source: WSJ Markets
I have noticed that many investors do not understand that OneSoft revenue is recurring on a yearly basis and not on a quarterly basis. The second quarter report was a disappointment for those investors as revenue for the second quarter was lower on a year over year basis for the same period as well as on a sequential basis. Management guidance had previously stated that this would occur.
Quarterly revenue will continue to be lumpy Q over Q, until more clients are signed. The bulk of recurring revenue is earned as clients load their ILI data logs, which varies client to client. For example, a client who needs to PIG 10,000 miles of pipe every 5 years will typically do 2,000 miles per year – at average of 30 miles per run, that works out to 67 PIG runs per year. OSSIF knows how many runs clients are budgeting per year and use that for revenue predictions. The timing of when customers do these runs each year varies, and unknown until part-way through the year.
Share Structure And Financials
There are 114.9 million shares and 8.2 million options outstanding for a fully diluted share count of 123.1 million. At the recent U.S. share price of $0.39, the market cap is $48 million. There is $9.7 million in cash and no debt resulting in an enterprise value of $51.5 million. Insiders own 34% of the shares. The burn rate is about $2.5 million per year with high R&D outlay. I don't expect that R&D expenses will be reduced once the non-piggable solution is fully developed as OneSoft will continue to push for the development of new products and new applications.
Valuation
OneSoft is clearly defined as a data analytics company. They don't collect data or provide maintenance or hardware, just data analytics which results in gross profit margins in the 90% area. Recurring revenue was $1 million in 2018 and $2.5 million for 2019. Revenue should come in somewhere between $4 million and $5 million for this year which results in an EV/S ratio of 10-13X, which is very modest for a SaaS company, especially a profitable one.
OneSoft should be able to double its revenue annually for the foreseeable future as management has stated by adding new customers and expanding services which result in revenues of $40 million for 2023. Assuming no dilution from new shares and an EV/S ratio remaining at about 10X results in a price of $3.00 share, significantly higher than the current $.39 price where it is trading today. I do think that the stock will be given a higher valuation and rerate as new customers are added, revenue continues to scale and profitability kicks in. There's also expansion into global markets and then into lateral industries which further increases the overall TAM.
Competition
There are no direct competitors as no other pipeline integrity company has sufficient data to create a software solution that would be able to compete with CIM. More data results in more accurate forecasts. Existing pipeline integrity operations from such companies as Q-Inline, OnStream Pipeline Inspections, ROSEN Group, Tidewater, General Electric and Nikon and hundreds of small private pipeline integrity companies seem very likely candidates to buy into OneSoft's white-glove program if they wish to remain in the business.
Risks
Many pipeline integrity companies are likely developing their own software today. Companies are likely to try to copy OneSoft's strategy and compete by offering a lower quality product at a lower cost.
Conclusion
I have been following OneSoft for two years and I am impressed in how clearly they define their short-term goals on their way to achieving their long-term goals. They have set out to be the dominant player in oil and gas pipeline integrity and have gone from proof of concept to commercial stage and now onto scaling. For this new stage, they have incorporated new sales strategies and expanded their addressable market with the introduction of a non-piggable solution. I am looking forward to upcoming news about new customers and expanding services as well as to share price appreciation.
Disclosure: I am/we are long OSSIF. I wrote this article myself, and it expresses my own opinions. I am not receiving compensation for it (other than from Seeking Alpha). I have no business relationship with any company whose stock is mentioned in this article.