Good morning, and welcome to our rolling coverage of the world economy, the financial markets, the eurozone and business.
Covid-19 fears are weighing on the financial markets again today, as rising infections put governments under pressure to consider fresh, tougher restrictions to combat the pandemic.
Overnight, the number of infections worldwide has passed 38 million, with cases still rising sharply. In France, president Emmanuel Macron, is expected to make a significant announcement about additional national lockdown measures later today.
Yesterday, the Netherlands government ordered a partial lockdown after seeing cases surge, with PM Mark Rutte warning "That hurts, but it's the only way."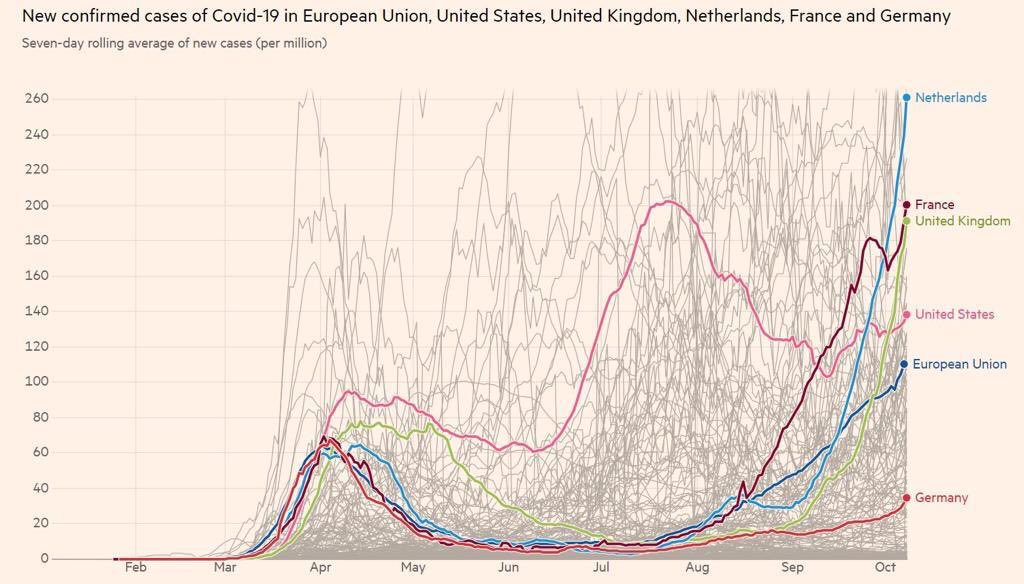 Rutte's plan includes the closure of bars and restaurants, and limit on the size of social gatherings.
We're also expecting Northern Ireland to announce wide-ranging new Covid-19 restrictions to try to contain exploding rates of infection.
The measures are likely to include the closure of many businesses and schools and fresh curbs on gatherings over several weeks, amounting to a partial lockdown.
In the UK, the new three-tier system that will put Liverpool (for starters…) into tight restrictions begins today… just as the whole issue polarises Westminster.
The opposition Labour Party is pushing for a two-week 'circuit-breaker' lockdown to slow the virus, while backbench Conservative MPs are threatening to rebel against the existing plans including the 10pm curfew.
The markets are also losing faith in hopes of a swift medical solution to the crisis. Overnight, US pharmaceuticals firm Eli Lilly and Co paused clinical trials of its COVID-19 antibody treatment due to a safety concern.
Earlier in the week, Johnson & Johnson put its Covid vaccine trial on hold, over a participant's 'unexplained illness'.
Such delays are standard practice in a medical trial — which is why it normally takes many years to bring vaccines to market.
But it's a wake-up call to any investors who breezily thought the worst of the crisis might be behind us.
As Fiona Cincotta, analyst at Gain Capital, puts it:



On Tuesday Johnson & Johnson announced that it as pausing its covid vaccine candidate vaccine trial owing to a participants' unexplained illness. Eli Lilly & Co announced later on Tuesday that it too is pausing its clinical trial of its covid antibody treatment on safety concerns, sending US stocks sharply lower.

Whilst it is common to see pauses in vaccine trials, this boils down to the fact that at best it could take longer to get a vaccine rolled out and at worst the trials will be shelved. Either way you look at it, its not good news for risk sentiment in the markets.
Cincotta adds that the recovery remains 'very fragile'….



Let's not forget that we are only in Autumn, meaning that this could be a very long winter as governments struggle to get control of the spread of the virus. These measures could quickly derail the already very fragile economic recovery.
The agenda
9am BST: IEA monthly Oil Market Report
9am BST: ECB president United Nations Environment Programme Finance Initiative
10am BST: Eurozone industrial production for August
1pm BST: IMF releases its Fiscal Monitor
2pm BST: Bank of England chief economist Andy Haldane speaks at the Engaging Business Summit Autumn Lecture