It's easy to miss the warning signs that your brand is becoming dated, especially when your board or leadership team becomes comfortable with your current style. Despite the common phrase that your brand is "a living thing," continuing to make forward-looking changes and evaluating your credit union's image through the perspective of an outsider may be challenging over the long-term.
While a full rebrand can be costly, and may not be necessary for your credit union, there are some simple and affordable ways to give your brand a fresh, new look without moving in an entirely new direction. A little bit of effort can go a long way if you know where to focus your resources.
Three Ways to Stay on Top of the Latest Design Trends
1. What do your colors say about your brand? One of the most common challenges we encounter as we work with financial institutions across the country is that their color palette has become dated. That accent color that was so popular 10 to 15 years ago? It definitely needs to be refreshed. If you've chosen a more ­traditional logo color, this may simply mean updating your complementary colors or slightly adjusting to a fresher variation of your traditional hue. Just imagine walking into your grandparents' kitchen and seeing their olive-green appliances. Clearly, that's not the impression you want to give your current or potential members – whether they are glancing at your website or sitting in line at the drive-thru.
2. Are you using fonts consistently? Unfortunately, fonts are also overlooked quite often. With staff turnover or even just multiple parties having a hand in creating your materials, it's easy to end up lacking a consistent use of fonts. While this seems minor, choosing two or three fonts and using them consistently can make a huge difference. Having clear brand guidelines, even if they are just outlined in an internally produced two-page document, that reference which fonts, colors and logo treatments may be used can increase consistency and make future refreshes simpler.
3. Is your image usage up to date? Another design element that is rapidly changing is image usage. Due to social media's focus on images, the style of images you used two to three years ago has probably changed. Make sure you keep your graphics fresh – whether they're vector graphics or images with people. This is especially true if your credit union wants to attract younger members. A stale image will say a thousand words, and none of them will be the message you intended.
Four Symptoms You Should Not Ignore
If you want to maintain a strong, relevant brand image, recognizing potential improvements before they become big challenges is vital. Don't ignore the early warning signs that your brand's health and vitality may be ­waning. Many companies ignore ­obvious symptoms that a brand needs to change because they've become so comfortable with what they know and love. Don't let love of brand blind you to noticeable signs that your look, imagery or messaging are becoming stale. Here are a few of the most common symptoms we see.
1. Age: Are you marketing to your current audience or is your brand focused on the core members of yesteryear? Does your brand voice reflect the new realities of 2020 … or sometime in the mid-00s or even mid-90s? Sometimes all you need is a simple brand refresh or website makeover to keep up with the times. But in other cases, the issue could be at the core of your brand and marketing. We get it. You've been around for a while and frankly, long-term stability is a selling point. But sell it well.
2. Growing Pains: When you were a growing child, you had to change old clothes for new ones, and ultimately you had to learn how to adjust to adulthood. It's the same with your brand. If your target demographic is becoming more diverse or if you're expanding geographically, that could mean your brand messaging needs to adapt to have broader appeal.
3. Looking Unwell: Sometimes a negative brand image can hover over you like bad allergies. If this is the case, you really should get it checked out. If the symptom of negative or non-existent social media comments means you are perceived in a negative light or come across as irrelevant to younger consumers, a brand ­refresh could be a part of the antidote. Updating your image may be the perfect answer to keeping members who love you and bringing in new ones who were not drawn in by your previous messaging.
4. A Cluttered, Messy Environment: Branch environments say a lot about your brand. Even if foot traffic has decreased due to COVID-19, members who do need to visit a branch for a more in-depth discussion, or to close on a mortgage loan or perform a complex transaction, will appreciate a clean, uncluttered environment.
After all, your branch environments are the clothes that your business wears. A well-dressed organization communicates professionalism, cleanliness, efficiency and yes, respect, to its members.
Picture this: You notice a financial institution online that seems well put together and professional. You make the decision to open an account with them. You then visit one of their branches and immediately notice stains on the wall, a poster from March 2018 and an outdated carpet. Regardless of how that business was marketed online, the indoor environment communicates outdated technology, poor maintenance and worst of all, a careless attitude. It's not a good look in general, but it's particularly bad form in today's new normal as consumers seek relief from economic and many other types of stress.
The good news is that in all of our years designing branch environments, we have seen countless offices and branch locations turned around because of some very simple changes to the space – color, point-of-purchase marketing, new carpet, etc.
Whatever the symptom, if you choose to refresh your brand it should be done thoughtfully, tactfully and purposefully. After all, a healthy business that can effectively communicate a relevant and helpful message to its audience will continue to be a successful business.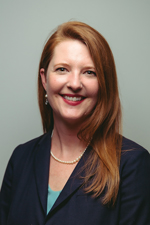 Elisa Rode President Kearley and Company, Inc. Fort Worth, Texas