Equinox Gold Corp. (EQX) has gradually transitioned from a small-cap in 2018 into a mid-cap by 2020 after acquiring Leagold Mining, slowly increasing its visibility among larger investment funds. While many conservative investors traditionally haven't bought into gold miners for a few reasons, e.g. gold is viewed as a non-productive asset, it's a commodity and thereby making it subject to highly cyclical boom and bust cycles, and the royalty companies, i.e. the financiers of the miners, are viewed as safer alternatives because of consistent profitability, almost regardless of gold price trends. However, the difference at this point is that gold royalty companies are broadly more expensive than miners. Another important dynamic to be mindful of is that gold has structurally increased due to fiat currency debasement, not necessarily due to a massive demand increase or supply shortfall. Following the coronavirus pandemic's damage to the global economy, we've observed record debasement of fiat currencies through interest rate reductions and trillions in quantitative easing. As a result, gold prices have spiked to all-time highs. With central banks globally incessantly intervening in the global economy, gold prices have only done one thing over time: go up.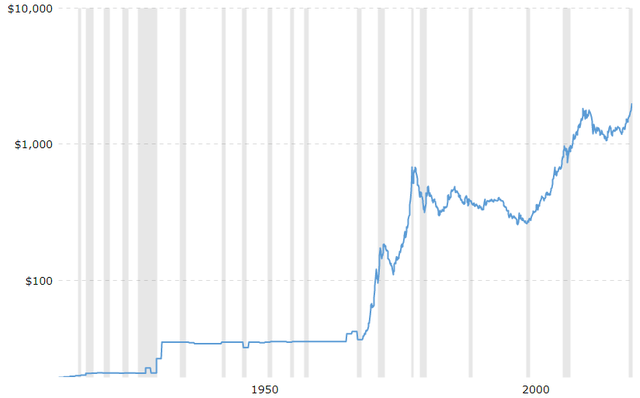 While royalty, or gold miner financing, companies are generally safer and still benefit from high prices, they are undoubtedly much more richly valued at this juncture. The top three royalty companies are up about 150% on average in the last two years (versus miners which are only up slightly over 100%) and trade between forward EV/EBITDA ranges of 20-36x.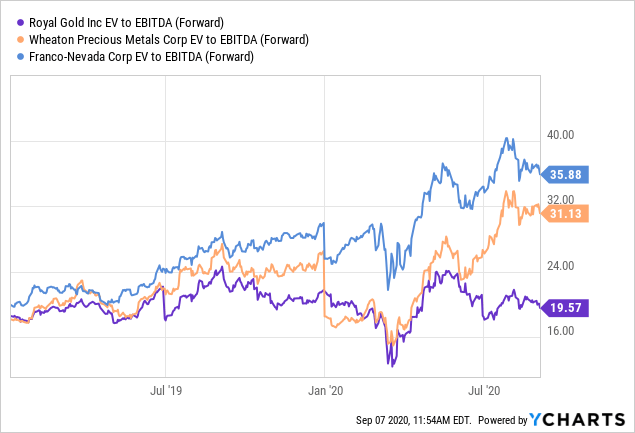 Most of the upside is likely baked in at this point unless gold prices continue surging higher. They could, but it's not a given. Instead, if gold prices even stay within the range of $1800-2000/oz, there are a few gold miners that could see decent upside. Berkshire Hathaway's (NYSE:BRK.A) (NYSE:BRK.B) recent $565 million purchase of Barrick Gold (GOLD) is certainly a good vote of confidence in favor of gold as a whole or the miners specifically. This purchase likely occurred as a general hedge against the economy and/or an appealing valuation. In mid-2019, I explained why I've owned this miner for the last few years:

While Barrick Gold probably still has some decent upside from here, my new favorite is definitely Equinox Gold because of its similar unit economics but much cheaper valuation. All in, I'm currently holding Barrick Gold because of its fair valuation and buying Equinox Gold with its clear undervaluation.
Production Growth
The consolidated entity, Equinox Gold, now operates six mines, including Mesquite (U.S.), Los Filos (Mexico), Aurizona, Fazenda, RDM, and Pilar (all based in Brazil), while carrying 100% ownership interest in each. The transaction involved Equinox Gold mostly issuing equity to acquire the business. What's exciting here is that nearly every operating mine is highly profitable in 2020, except for the development projects within (e.g. Castle Mountain and Santa Luz) which were acquired on March 10, 2020. That said, these projects are in late stage construction and in temporary maintenance, respectively, and are anticipated to be fully operational and become highly profitable in the coming quarters. Having essentially all of your mines in good operating stead is an ideal situation during the current pricing environment when gold prices are trending around $2000/oz. For context, Equinox is operating with industry-leading mining costs: "Our mine cash costs – our costs for the quarter were also quite strong with mine cash costs of $776 an ounce and all-in sustaining of $900 an ounce." The key difference with the majors is production volumes. Barrick Gold, for example, has done over $11 billion in revenue over the last 12 months, whereas Equinox just had its first quarter at scale in the company's history. And it was nothing short of a blow-out quarter. During 2019, Equinox was only doing about $30 million in quarterly sales, or $120 million at run rate which was on par with a junior minor. In the second quarter of 2020, however, Equinox reported $215 million in sales. To repeat, total sales in one quarter exceeded all of its historical annual sales. And the company is only getting started since production is set to continue ramping.
According to the 2Q 2020 conference call, management stated that production was at record highs in spite of temporary shutdowns and delayed production that wouldn't come online fully until 2021 (the following quotations have bold for my added emphasis).
Related to its Mexico based mine: "I will note that the sales for the quarter are more than 40,000 ounces more than over Q1. And that was with Los Filos down for most of the quarter due to government mandated temporary standby due to COVID."
Furthermore, development mines will be coming online, particularly Castle Mountain at an organic annual growth rate of 20%: "And the other added benefit now is we are just ramping up Castle Mountain into production here in the near term and we will be able to smelt the gold and share some of the actual back office and services between the two mines… It is a funded organic growth profile towards a million ounces a year of annual production. It is roughly a 20% per annum growth rate. And really what peers have that kind of growth internally."
Circling back to the Los Filos mine, management stated that they expect production to expand incrementally into 2021, or within the next two quarters and in 2022 as well: "In terms of Los Filos for 2021, I mean, obviously we are just starting our budget process. So I don't have detailed information on that yet. But what we do expect to see here is, as we move towards the higher grades at both Guadalupe and Bermejal, we expect to see the production increase incrementally into next year. So you will see an incremental improvements and increase in the production rates and levels. And obviously 2022 will show an improvement beyond that, because of obviously the CIL plant coming into play. So it would be a nice sort of call steady upward trend here over the next sort of 18-months to 24-months. "
One of its Brazilian mines was also temporarily impacted by the coronavirus due to government restrictions, but those have been relaxed: "Let me turn back to Brazil and Fazenda on the next slide on Slide 7. Fazenda basically was affected slightly by COVID. The mining workforce was reduced for a short period there, the local Mayer had put in place some restrictions to manage the COVID situation in local communities. So we were impacted slightly by that, but it is now operating at full capacity."
Another Brazilian mine was seasonally hit by abnormally high rainfall but the company will pick up production significantly during the dry season and is planning for high rainfall in 2021: "Number one, starting off with Aurizona, obviously production was low as a result of the rainfall, which will use access to some of the high grade areas…managing of the rains, strategy in place to keep production up drawing stockpile during the rain, setting yourselves up for the next rainy season as well. So we expect to see the grade come up as the team has been able to access the more central areas of the pit. So grades in the 1.5, 1.6 range, there will be much more of that in the mine plan for the second half."
Looking Forward
In order to not understate the risks here, execution is extremely important in the gold mining industry. A colleague of mine strongly prefers the royalty companies because they have a safer business model and lower capex requirements. While this is a fair assessment, I don't think it means that conservative investors should ignore the gold mining side of the industry entirely because of more onerous operating risks and financing requirements. Fortunately, the market accounts for that in valuation. Furthermore, there's a clear difference between mining companies that run great operations (i.e. those who maintain their equipment, have mines with stable geological structures, and meeting production targets, as well as those which use conservative resource models, have good access to financing and internal funding, and are completely transparent with investors) and mediocre miners that have the opposite, or lack, several of the aforementioned factors. Equinox Gold lands in the former category given its solid track record, current arrangements, and communications on conference calls. For context, Equinox's historical cumulative impairment charges have been effectively non-existent whereas certain junior minors have recorded significant write-downs, some of which included complete abandonment of mines. Point being, excellent mining operators generate considerable returns to shareholders, and as a result, the risk/reward skews can be even better than the royalty companies.
Circling back to Equinox Gold's growth profile, once all mines come online, quarterly sales are anticipated to increase by an incremental $285 million per quarter on top of Q2 levels. Piecing it together, sell-side analysts have estimated that Equinox will generate approximately $2 billion in annual sales as a base case in the coming fiscal years. What's even more constructive is that Q2 revenue was based on gold being sold at a realized price of $1,712. Now gold prices have averaged between $1900/oz and $2000/oz in the last few months, or about 13% higher.
On the cost side, Equinox achieved record gross margins following all-time high volumes and pricing (and with $1900+/oz, gross margins are well within the 40+% range):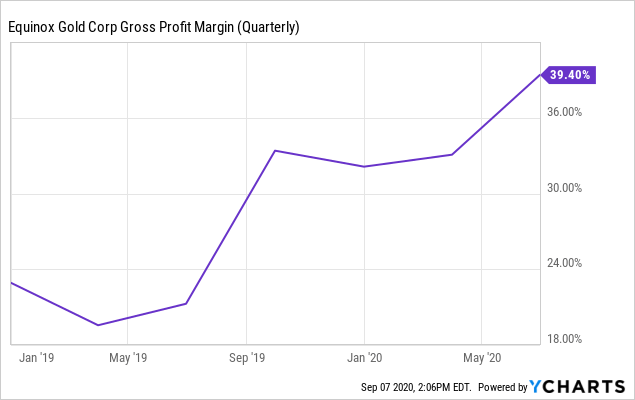 Low oil prices and USD currency devaluation also provided a modest benefit during the quarter: "Those costs are driven by first of all a good cost controls by operating teams on the ground, favorable foreign exchange and of course, low fuel prices, also influencing the cost for the quarter where was adjustments for purchase price accounting." While forex benefits aren't everlasting, the currency debasement of Mexican Pesos and Brazilian Real has definitely run its course over the last few years and we've observed rounding bottoms for both paired against the USD over the last six months. Regarding oil prices, so long as global transportation remains subdued, those costs will stay capped. These minor benefits aside, operating and net profit margins still would have reached a high watermark.
What's most interesting here is that despite Q2 being the best quarter in the company's history from a revenue and margin perspective, and that the conference call contained rich information that forecasts an exceptional growth trajectory, the stock has actually stayed flat since that announcement. Well, many investors screening for high quality, excellent-margin gold mining companies wouldn't have seen Equinox in their equity research tools (i.e. Bloomberg, FactSet, or any other terminal), even after Q2. Why? Because Equinox actually reported a net loss following total non-cash charges of $90 million related to equity warrants, gold hedges, and FX. Since those are largely one-time costs, profitability will be much higher in the years ahead. When stripping out those costs and using Q2 2020 as a proxy, Equinox's net profit margin would have been ~14.4%. $2 billion revenue against the normalized profit margin would put the stock at approximately 10x earnings, which is quite cheap: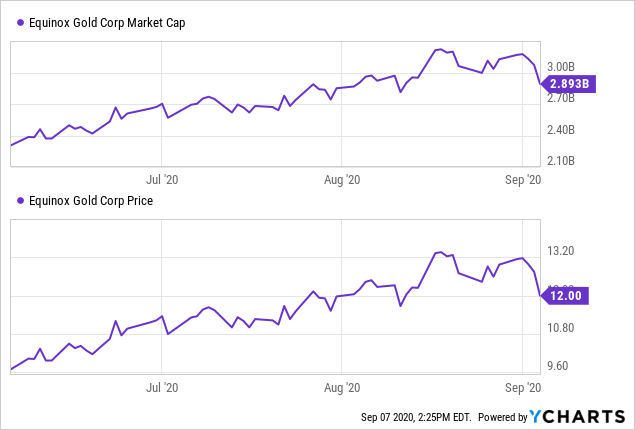 Strong Balance Sheet
Once the company finishes ramping production, capex budgets will taper down and management may start retiring its debt. Presently, interest expenses have increased to $11.4 million per quarter at a weighted average cost of 6.4%.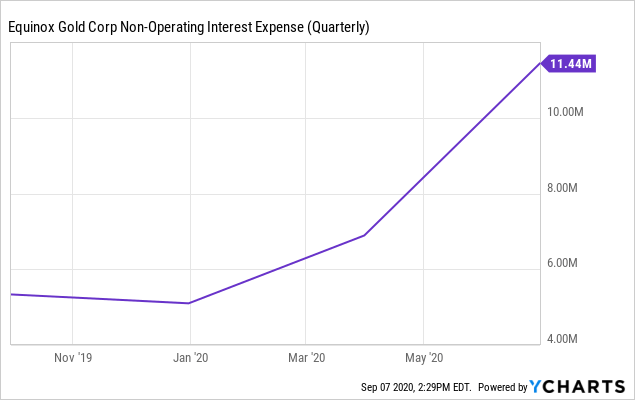 Reducing financial leverage isn't far off either as levered free cash flow has already turned positive. Based on annualized cash flow for FY21 going forward, gross debt only exceeds FCF by approximately 3x, so management could eliminate its outstanding debt within a few years. That would further increase profitability and cash generation. That being said, management affirmed that the balance currently holds a net cash position if shares are converted in the money: "Our net debt, which includes our in the money, convertible notes is 244.3 million. And if you exclude those, because they are well in the money at an average convert price of 650 a share, we actually have a net cash position of 8.3 million." And if gold prices stay within their current range combined with their margin profile, the balance sheet will soon carry an enormous net cash position.
Management also mentioned that one of its investments has significantly increased in value following the copper drilling success in one of its minority-owned businesses: "And in addition of note Solaris Resources, which was the copper spin out from the company in the summer of 2018, listed on the TSXV, they came out with a strong news release yesterday of good drill results. And our 30% investment in that company is now worth at a market rate of 70 million. On our balance sheet of course, we carry that at cost, and so that market rate is not reflected there." And copper prices have also surged 40% over the last six months after the trough pricing environment realized in March.
Point being, Equinox really doesn't carry much debt at all when accounting for its current cash, investments, and future profitability. And once capex spend rolls off after the production ramp, management will likely institute a dividend program to return capital to shareholders, similar to larger mining peers. If a dividend policy is implemented, then its shares will likely also be picked up by ETFs, mutual funds, and other funds that seek out dividend distributions, all of which will lead to further upside in the stock.
Putting everything into context, Equinox, pushed to record production volumes, is currently working through headwinds that will only last a few more quarters, and already holds a net cash position at 10x forward earnings. It also has nearly flawless operations compared to other minors with the exception of one mining operation being halted as a result of a road blockade. That being said, management anticipates growing production at all of its mines in 2021 and realizing record pricing. From here, cash will swell at an accelerated pace and ultimately reward investors.
Bottom Line
Large-cap gold royalty and mining companies are fairly valued, if not overvalued in the current environment. That being said, there are pockets of value in the mining segment, and Equinox Gold has definitely lagged the broader industry. Based on forward projections, the company is only trading for 10x earnings which is cheap on its own and relative to peers. At $12 per share, the company has the capacity to generate high-single-digit or double-digit annualized returns going forward. Even if the stock only provides mid-single-digit returns, investors are still adding an excellent portfolio hedge against further global economic turmoil and/or inflationary trends. I'm buying shares today. Is Equinox Gold a good investment, let me know what you think in the comment below?
As always, thank you for reading. If you found this article interesting and would like to read more research like this, please click the "Follow" button at the top of the page.
Disclosure: I/we have no positions in any stocks mentioned, but may initiate a long position in EQX over the next 72 hours. I wrote this article myself, and it expresses my own opinions. I am not receiving compensation for it (other than from Seeking Alpha). I have no business relationship with any company whose stock is mentioned in this article.