We wrote about the Ensign Group (NASDAQ:ENSG) last October and stated that the firm was in need of a catalyst in order to negate the bearish technicals we were seeing on the technical chart. Fast forward 11 months and shares are up almost 37% since we penned that piece. In fact, the bearish long-term technical indicator which we observed at the time (crossover on the MACD indicator) actually played itself out due to how equities fell aggressively across the board at the start of the year. The downturn was short-lived though, as shares managed to take out their 2019 highs just this past month.
This performance is something in itself as the majority of stocks remain well down from their pre-pandemic levels. In fact, as we will see when we get into Ensign's financials, the pandemic actually aided this company's financials which resulted in shares breaking out to new highs. The question now is whether there is further room to go in this rally or will Ensign Group take a breather at these levels. Remember, as the western world enters flu season, probabilities would state that coronavirus cases will continue to increase from present levels.
Therefore, from a fundamental viewpoint, there is no reason to believe why this rally will not continue. In fact, the long-term chart (from a momentum and trend viewpoint) through the MACD indicator at present is giving a buy signal. This is not surprising, given the performance of the firm throughout the pandemic thus far. The first quarter's bottom line of $0.77 came in $0.22 ahead of the same quarter of twelve months prior. The second quarter EPS number of $0.77 came in $0.23 ahead of Q2 last year. Momentum is expected to continue in the third quarter with 32%+ growth ($0.73) expected for the quarter which ends in September.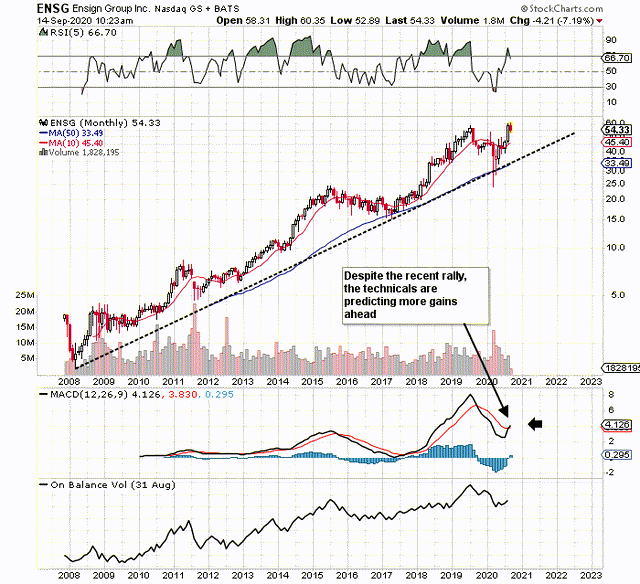 Management was also quick to point out that the firm's results did not include any benefits of monies from the CARES act. In fact, management decided for the time being not to accept grants due to how strong it believes the firm's financials are at present. Suffice it to say, management wanted to clearly get across that there has been limited "propping up" of the business by the state as the business looks more than sustainable at this present moment in time.
From a valuation perspective, although Ensign's sales and earnings still look attractive, its assets look richly valued (book multiple of 3.97). This is what happens when shares rise by 50%+ over the past six months alone. However, one thing we have learned with respect to trend analysis is that it is not the business's fault when the market loves its stock. Therefore (just because shares of Ensign are trading well above historic valuations at present), we do not deem this to be reason to sell. In fact, long investors should milk this rally for all its worth.
Look at the performance across the past 4 quarters of the financial statements, for example. Net income rose by $11 million on a rolling basis to hit $40 million in Q2. Shareholder equity rose by $54 million to hit $716 million in the second quarter, but the most positive trend was found on the cash flow statement. Ensign generated $136 million of free cash flow in Q2 on the back of bullish trends in working capital and Accounts Receivable. As a result, $139 million was added to the cash balance on the balance sheet at the end of Q2.
Therefore, to sum up, Ensign's earnings performance thus far this year has demonstrated that there have been plenty of sectors which have bucked the trend somewhat compared to the majority. Specific niches in retail, biotech, technology, to name a few, and with Ensign, for example, in healthcare, have executed really well over the first two quarters. As we head into the winter, we expect demand for Ensign's nursing-homes services (where dedicated buildings and wings will continue to care for COVID-19 patients) to remain elevated. Suffice it to say, the trend is definitely your friend with Ensign Group at present.
———————-
Elevation Code's blueprint is simple. To relentlessly be on the hunt for attractive setups through value plays, swing plays or volatility plays. Trading a wide range of strategies gives us massive diversification, which is key. We started with $100k. The portfolio will not stop until it reaches $1 million.
Join Us here
———————–
Disclosure: I/we have no positions in any stocks mentioned, and no plans to initiate any positions within the next 72 hours. I wrote this article myself, and it expresses my own opinions. I am not receiving compensation for it (other than from Seeking Alpha). I have no business relationship with any company whose stock is mentioned in this article.