In the heat of the Summer, Dr. Tonya Blackmon, CEO/Founder of Conglomerate Empowerment, and her powerhouse speakers, turned the dial up a notch with her sizzling International Virtual Summit titled: "Secure Your Own Bag" this past August.  
As a highly sought-after Speaker/Webinar hosts, 2x Best-Selling Author and Business consultant, Dr. Tonya leverages more than 10 years of entrepreneurial experiences, global networks, and business savviness to help female-led Info Tech companies and tax-exempt nonprofits to secure contracts and grants.
Dr. Tonya's innermost desire is to provide a platform (www.drtonyab.com) for emerging business owners to network, thrive, maximize grants, and find their 'Wealthy Place!'
Each business leader offered invaluable business advice and wisdom to the event attendees and those who opted for the replay. (Still available for purchase.)
It's no surprise that Secure Your Own Bag received such amazing reviews from attendees.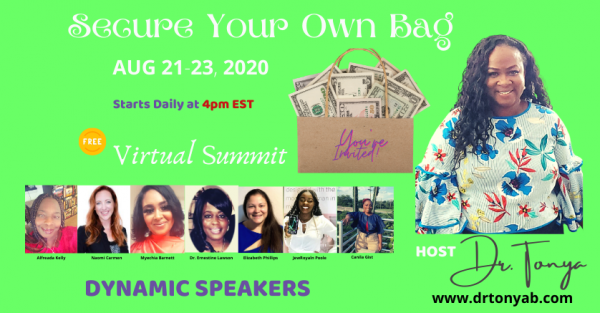 The Powerhouse event had an assortment of compelling topics & seasoned, ultra-successful speakers, which includes:
"The Exit Strategy" by JewRoyalyn Poole, Trader, who offered an exciting explanation and demonstration on how the foreign exchange market works.
"You have to apply for a chance to win," — A stimulating and informative lesson on the grant process by Elizabeth Phillips, CEO/Founder of Integral Grant Writing Service, Grant Writer.
"Keys to Unlocking your Greatness and Potential to Success," by Dr. Ernestine Lawson, CEO/Founder of Destined for Greatness Center.
Certified Life Coach, Pastor Greater Works Prophetic Ministries, Retired Chemist. Dr. Ernestine showed listeners how to uncover their potential and offered strategies to help participants manifest their dreams.
"Secure Your Own Bag is Taking Action and Investing In Yourself," by Myechia Barnett, Social Media Manager, Author & Mindset Coach
Mindset Coach Myechia, passionately demonstrated several techniques that she uses with clients to get unstuck and moving towards their business goals.
"Systems for Success," by Naomi Carmen, Online Business Manager and Board Member of The Sassy Carmen Foundation. Founder, Virtual Now, LLC.
Naomi shared strategic tips on the benefits of partnering with an Online Business Manager, and approaches that she used to help her clients scale their businesses (online and/or offline.)
"I Won't Complain," uplifting poem by Alfreada Kelly-Brown Author, Professor & Renowned Poet
Author of: Transformation of The Mind, Body & Soul, The Skin I Am In, Why Women Weep, My Thoughts and Prayers (poetry), I Have To Pray (a prayer journal) and Men Cry Too (an anthology.)
Rounding out the dynamic pack of speakers was Canila Gist.
Full of energy, Canila's inspirational message encouraged listeners to seek healing for personal issues that may be blocking them from launching a successful business.
Canila is the CEO & Founder of Your Story Matters; a Life Coach, Motivational Speaker, Strategist, Speaker and the Panelist Show Host of "Your Story Matters." 
This Epic event could not have been possible without Dr. Tonya's partnerships and sponsors!
A very grateful Dr. Tonya is saying a special thank you to these Secure Your Own Bag event sponsors:
Exit Strategy (JewRoyalyn Poole)
Laced in Blessings (Keisha Muller)
Abundance Builder (Myechia Barnett)
Integral Grant Writing Services (Elizabeth Phillips)
Your Story Matters (Canila Gist)
Elite Body Studio (Jasmine Patterson)
International Sponsors
Chido Samantha, Online Business Strategist
Dudu Ndebele, Virtual Assistant & Social Media Manager 
Media Contact
Company Name: Conglomerate Empowerment
Contact Person: Dr. Tonya Blackmon
Email: Send Email
Phone: 702.271.9856
Country: United States
Website: linktr.ee/drtonyab7