I am covering CVS Health Corporation (NYSE:CVS) since November 2017, when I wrote about the company for the first time. Back then, it was trading around $70, and I already called the stock undervalued. Over the last three years, I have written several bullish articles about CVS, and in April 2019, I finally bought CVS when it was trading a little above $50.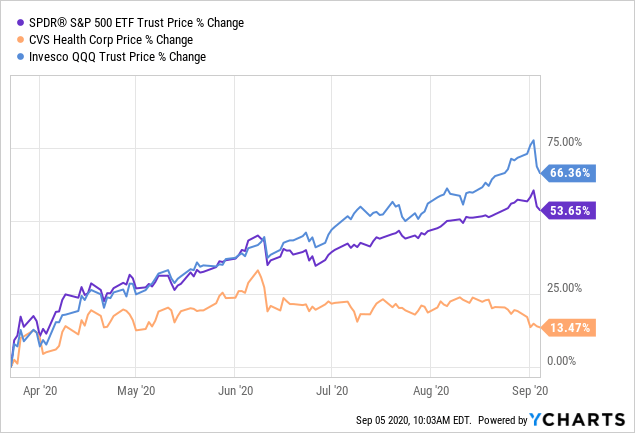 Although the stock climbed to $75 after I bought the stock, it crashed in March 2020 along with everything else, and it completely missed the rally that was going on in the market over the last few months. I understand that CVS is not a "hot stock" and not a technology company, but I am puzzled why the market does not recognize the value of CVS. And although I remain very bullish, the divergence between my opinion about the stock's intrinsic value and the market's opinion what a fair price for CVS should be (currently $60) makes me wonder if I miss anything.
In this article, I will therefore "test" and "challenge" my bullish thesis. As the stock is not really moving higher although I and many other authors on Seeking Alpha are very bullish, we have to question the bullish thesis. Among lawyers, it is a typical exercise to take both sides of the argument and try to find arguments for both sides. In this article, I will try to do the same and try to take the bearish side. I will try to find arguments why CVS is a terrible investment and deserves the low valuation multiples at which it is trading right now. But, of course, I will also try to disprove the bearish arguments.
Market Knows More
I assume that most investors learned in very painful lessons that the market often does know more than the individual, and when stocks are trading at very low multiples, it could be a bargain, but it could also be a red flag as the knowledge and anticipation of bad news is already reflected in the stock price. For me, that painful experience was buying Bed Bath & Beyond (BBBY) at $40, and then again at $30 as I was extremely convinced that the stock was undervalued at that point.
The bear might, therefore, conjure me to learn from this painful lesson and not repeat the same mistake with CVS as the market knows more, and there is a reason why CVS keeps trading at such low levels. And when looking at the estimates for the coming four quarters, we see expected declines in every single quarter, and in three quarters, even double-digit declines.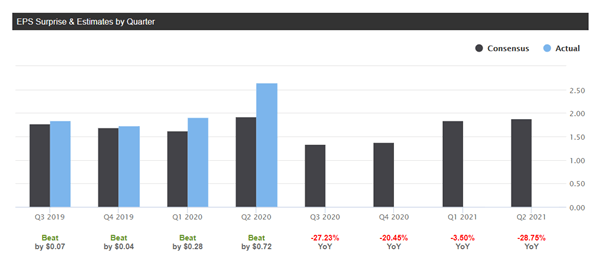 (Source: Seeking Alpha CVS EPS Estimates)
However, CVS could beat estimates for revenue as well as earnings per share for nine quarters in a row, which is indicating, that analysts are too pessimistic and continue to underestimate CVS. And when looking at fundamental metrics during the past five years in which the stock price was constantly dropping lower, we see a huge divergence. Revenue constantly increased, and free cash flow could also reach record highs (after a decline in 2017 and 2018), while the stock price did not really follow.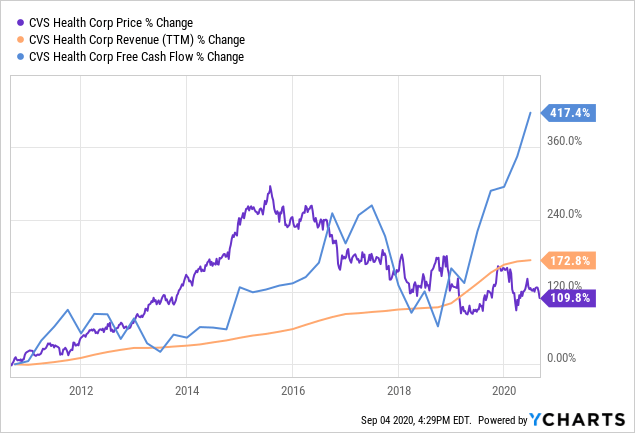 This discrepancy between fundamental numbers (like revenue and free cash flow) and the stock price is so obvious in case of CVS and is also reflected in the price-earnings ratio. The main reason for the declining share price is the declining price-earnings ratio and not the earnings of CVS. The market might know more about CVS, but so far, it is not obvious in the reported numbers in any way.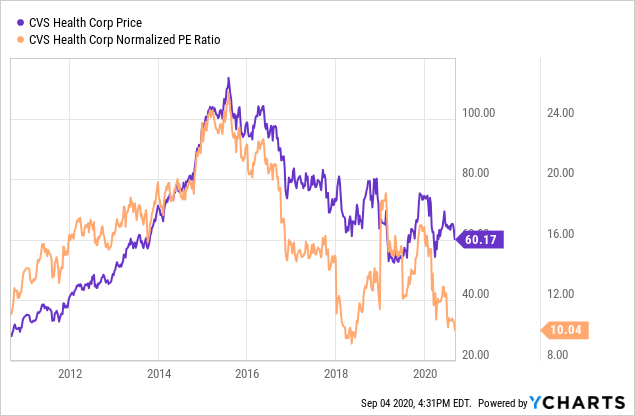 Maybe the market knows something, but it is hard to argue against something we don't know. And just assuming that the market knows something is not enough for not investing as the market is also wrong from time to time and creating fascinating bargains (or is driving prices to astronomical levels). We, therefore, have to look at individual reasons why CVS might be a bad investment and not just assume the market knows something.
Good Results Are Only Temporary
One of these arguments might be that the good results are only temporary, and you should not get carried away by the good second quarter results as these results are due to the ongoing pandemic and COVID-19. And it is true that COVID-19 had a positive effect on the results, and management is estimating that COVID-19 had a positive impact of $0.70 to $0.80 on second quarter results. Subtracting this positive effect, GAAP earnings would only have been $1.47 and $1.57 and, therefore, only similar to the second quarter of 2019.
But almost nobody seems to believe that these good results are only temporary. While analysts are estimating that CVS will report YoY declines in the coming four quarters, analysts are actually expecting earnings to grow constantly in the coming years and are not really seeing the good results right now as only temporary.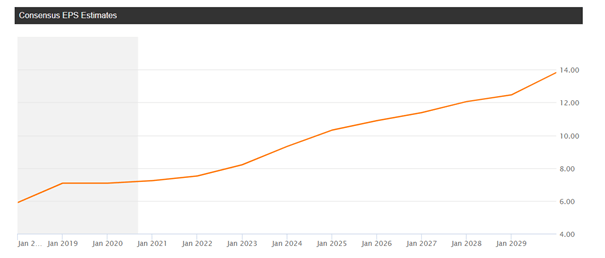 (Source: Seeking Alpha Earnings Estimates)
And not just analysts are estimating high growth rates. Management is also expecting double-digit growth over the long run.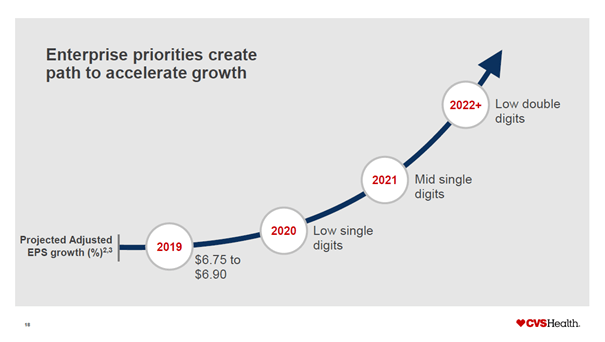 (Source: CVS Investor Day)
We also have to point out that CVS is not a cyclical company, but rather a very recession-proof business. Cyclical businesses are also often trading for low multiples, and it would have explained the valuation of CVS, but that is not the case. Since 1996, CVS could increase its revenue every single year – with one exception: 2010. Net income could also increase almost every year – only 2001, 2010, and 2018 saw a declining net income. CVS is a stable and consistent business, and the bearish argument that the good results are only temporary is easy to dismiss.
Retail Is Dying
Past results might be great, and management might also be optimistic, but retail is under immense pressure – especially the brick-and-mortar retailer – and the business model is constantly attacked by companies from the e-commerce sector. This bearish argument is not so easy to dismiss as it is true that Amazon (AMZN) and other online retailers are putting a lot of pressure on many traditional retailers.
We will come back to the competition in a minute – in this section, we are focusing just on the business model of CVS and, clearly, have to point out that CVS is not just a brick-and-mortar retailer. The retail segment is responsible for one-third of total revenue, and in 2019, it generated 43.7% of total operating income, which makes it an important segment for CVS. But the company also has two other very successful segments – the pharmacy benefit manager and the healthcare benefit company Aetna, which was recently acquired. This makes the "death of retail" argument a lot less threatening for CVS.
And when looking at the retail segment, we should also not become scared. It is true that CVS has about 10,000 stores all over the United States, and brick-and-mortar stores are an important part of the business. And the company might also face some pressure, which is visible in the lower margins, but the retail segment could still increase its revenue 3.12% in 2019 and 5.78% in 2018. And even in the very tough second quarter (in which retailers were affected by lockdowns and stay-at-home orders), the retail segment could increase its revenue 1.0%, and same-store sales increased 2.4%.
And CVS is clearly trying to keep its brick-and-mortar stores attractive. It is constantly trying to improve the store concept and attracting customers to its stores: By introducing the HealthHUBs, CVS introduced a great alternative to online pharmacies as the HealthHUBs are offering so much more, which customers can't get from online pharmacies and might tip the scales in CVS' favor. And CVS is also not stuck as a brick-and-mortar retailer, but is also shifting towards online or home delivery (volume was up more than 500% in the second quarter vs. the prior quarter) and creating a consumer-centric technology infrastructure.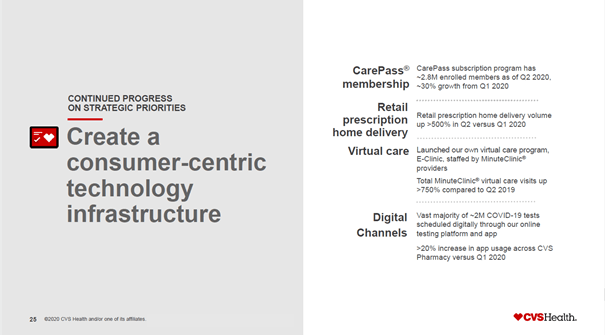 CVS – like most other brick-and-mortar retailers – has to adapt, but CVS is neither dependent solely on its brick-and-mortar stores nor is management standing helpless at the sidelines.
Competition
I already mentioned above that competitors are putting a lot of pressure on CVS. Especially online pharmacies are posing a threat to CVS' business as we will see a shift towards e-commerce (as in other segments). Especially, Amazon is a competitor, which has to be taken seriously. In 2018, Amazon acquired PillPack, and this sent shock waves through the sector and also sent the stock of CVS lower. Amazon should definitely not be underestimated. But it also doesn't make sense to glorify Amazon more than necessary and assume that Amazon will destroy competition in every sector it enters. And with estimated sales of $1.2 billion in 2020 for PillPack (I couldn't find actual numbers), this is only a fraction of CVS' sales so far.
In the retail pharmacy industry, CVS is a market leader with a market share of 25%. Walgreens Boots Alliance (WBA) has a market share of 19%, and all the other competitors have market shares of 10% or lower. And despite difficulties to build a moat around the business, being a market leader puts CVS in a comfortable position: while it might be easier to open a pharmacy, it is much more difficult to compete with such industry giants like CVS or Walgreens Boots Alliance as the cost advantages are hard to match for new competitors.
And CVS is also in a strong position in its two other segments. In the pharmacy service segment (the pharmacy benefit management), there are only three major players, and CVS is only competing with Express Scripts (was acquired by Cigna (CI) a few years ago) as well as UnitedHealth Group's (UNH) OptumRx. With a market share of 30%, CVS is also a market leader in this segment.
And finally, CVS Aetna is also among the biggest players, but with a market share of only 5%, it is not a market leader and has not a similar dominant position as in the retail and pharmacy service segment. UnitedHealth (which owns also one of the major PBMs) is a market leader among the healthcare benefits companies and has a market share of 14.2%. The other major players include Humana (HUM), Anthem (ANTM) and Cigna (which owns Express Scripts).
History showed us that market leaders can also fail, but considering the dominant position of CVS and the economic moat it could build around parts of its business, the bearish argument that competition will destroy CVS is hard to make.
Debt Levels Are Problematic
A final bearish argument might be the fact that the high debt levels could be problematic for CVS. It is true that CVS has a lot of debt. At the end of June 2020, CVS had $63.5 billion in long-term debt and about $8.2 billion in short-term debt. When comparing the debt levels to shareholders' equity (which is $68.4 billion), we get a debt-equity ratio of 1.05. When looking at the operating income of the last 12 months ($14.3 billion), it would take more than five years to repay the debt, which is quite a lot. But when looking at the debt maturity schedule, the highest amounts to repay are about $10 billion in 2021 and about $8 billion in 2023, 2025, and 2028 and CVS should be able to generate enough cash from operations to pay these amounts in every single year.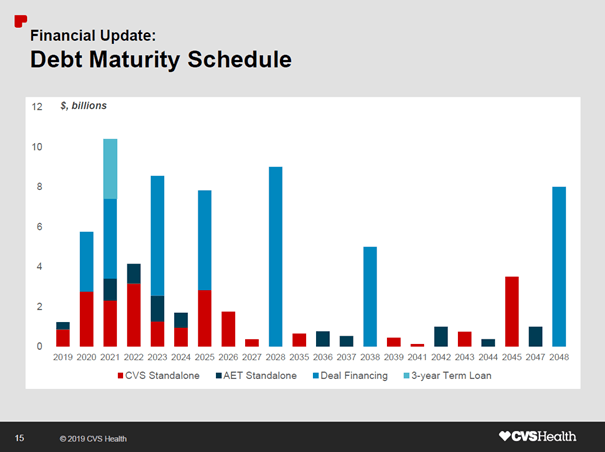 (Source: CVS Investor Presentation)
But that is only part of the picture. I would actually argue that CVS is in a strong position financially. As of June 30, 2020, the company had $14,869 million in cash and cash equivalents, which is enough to repay one fifth of the outstanding debt. However, about $6 billion is only available through commercial paper or borrowing capacity under credit facilities. Additionally, CVS has $21,190 million in investments, which can also be seen as rather liquid and is not necessary for CVS to keep its business running. There are about $2.6 billion in short-term investments and $18.6 billion in long-term investments (which are split up in about $1.9 billion in U.S. government securities and $2.3 billion in states, municipalities and political subdivisions as well as about $7.4 billion in U.S. corporate securities and $2.3 billion foreign securities).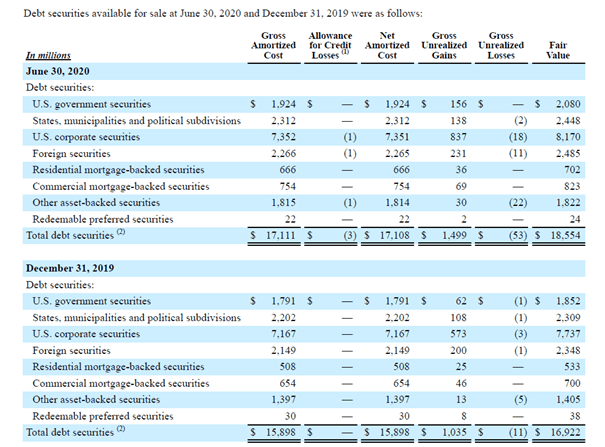 (Source: CVS 10-Q Second Quarter 2020)
Valuation
A final bearish argument could be that the stock is just overvalued, and despite CVS being a good business delivering solid results, the stock is not a good investment. But that argument is probably the easiest to dismiss (in my opinion). We already mentioned the high past growth rates, the high growth rates analysts as well as management are expecting and the low price-earnings ratio – and it just doesn't add up.
When trying to calculate an intrinsic value for CVS and being very conservative, we assume a similar free cash flow in 2020 as in 2019 (and, therefore, ignoring past quarters, which were exceptionally good). And especially, the free cash flow of the second quarter seems like an outlier, and it might take some time before CVS can report a similar quarter again. So, we take a free cash flow of $10,391 million as basis and assume only 1% growth in 2021. We then assume that growth will accelerate over the next few years and reach 3% growth in 2023 and will stay at that low level until perpetuity. This leads to an intrinsic value of $110 (10% discount rate).
When looking at management's growth expectations (double-digit growth), we have to ask if these assumptions are realistic. When looking at long-term growth rates (revenue grew with a CAGR of 12.81% since 1980, and net income increased with a CAGR of 10.98%), we have to question our assumptions even more. And although growth rates slowed down in the last decade (revenue grew with a CAGR of 10.02%, and net income increased with a CAGR of 6.01% – not including share buybacks), we must call the assumptions above unrealistic. Instead, let's assume the free cash flow of 2019 once again as basis and then assume 1% growth for 2021, which will accelerate to 5% growth in 2025. Considering the wide economic moat and position as a market leader that growth rate seems also realistic till perpetuity. This will lead to an intrinsic value of $144.85, which seems unrealistic high, considering the share price of $60, but I honestly believe that the assumptions are still too conservative.
Conclusion
Maybe I am missing something, but even when trying to take the bear's view, I can't come up with an argument that justifies the current stock price in any way. I probably will increase my CVS position in the next few days or weeks – I am just trying to find a good entry point. Honestly, it doesn't matter if you buy CVS at $60, $70 or maybe $50 – it is a bargain, in my opinion. Nevertheless, I am trying to get the stock as cheap as possible. One the one side, CVS is extremely undervalued (making even lower stock prices unlikely), but on the other hand, the stock can easily drop to its lows of $50 again as the downtrend is still intact (and especially if the overall market declines, it might draw CVS down with it). But, over the long run, CVS should be a great investment providing double-digit returns.
Disclosure: I am/we are long CVS, BBBY. I wrote this article myself, and it expresses my own opinions. I am not receiving compensation for it (other than from Seeking Alpha). I have no business relationship with any company whose stock is mentioned in this article.