Overview
Copart (CPRT) is a capital-light, fast-growing, high-margin business. The company essentially acts as an agent on behalf of insurance companies that are selling salvage vehicles at auction. The online auction platform links sellers to more than 750,000 members in over 170 countries. The company has tremendous scale with over 125,000 vehicles available at auction each and every day. The industry is an oligopoly with Copart's market share at 40-45%. The top 3 companies in the industry have 90% of the total market.
Q4 2020 Results
Last week, Copart reported Q4 2020 results. Revenue decreased 3.1% to $525.7 million. Net income increased 7.8% to $165.5 million.
Fully diluted earnings per share for the three months ended July 31, 2020 were $0.69 compared to $0.64 last year, an increase of 7.8%.
Fully diluted earnings per share for the year ended July 31, 2020 were $2.93 compared to $2.46 last year. This represented an increase of 19.1%.
Pandemic Impact
As one can see in the 4Q results, the pandemic has had little impact on the business of Copart. During the conference call, CEO Jay Adair noted that the company is immune to the pandemic.
"I used to say before 2008, that we were a recession-resistant company. After 2008, I started saying that we were recession-proof. And now, after 2020, I can confidently say, we are a pandemic-proof company."
In some ways, Copart might even be benefiting from the pandemic. On the conference call, President Jeff Liaw noted that the accident frequency has been trending up during the pandemic.
"On accident frequency, the conventional wisdom has been that accident frequency is positively correlated with miles driven, because congestion naturally contributes to accident frequency.

During the pandemic we've seen very strong evidence that the opposite has proven true, with our roads less crowded, speeding and distracted driving had both increased substantially, contributing at least in the near-term to increase accident frequency per miles driven.

Over the very long haul, over Copart's, near 40-year existence, we have generally seen accident frequency decline, as cars get safer. The overwhelming offsets to that of course has been, total loss frequency. And on total loss frequency itself, we have seen evidence of increasing total loss frequency, during the pandemic, as well."
It should be noted that there are three main demand drivers for Copart's auction services. Miles driven, accident rate and salvage rates. All have been trending in the right direction over the last ten years. Although miles driven have declined during the pandemic, the accident rate has actually increased.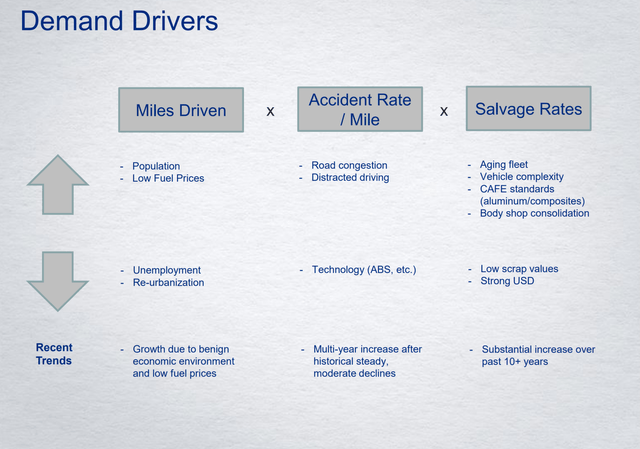 Source: Copart Presentation, 2016
Valuation
Copart has a valuation of $24.7 billion. The company is expected to earn $2.84 in the coming year and has a forward PE is 36X. In the most recent year, the company generated $918 million of operating cash flow. The company trades at 27X operating cash flow.
Over the last ten years, Copart has tripled revenues while maintaining huge operating margins.

Source: Seeking Alpha
The operating margin is a stellar 37% and the return on equity is equally impressive at 32.8%.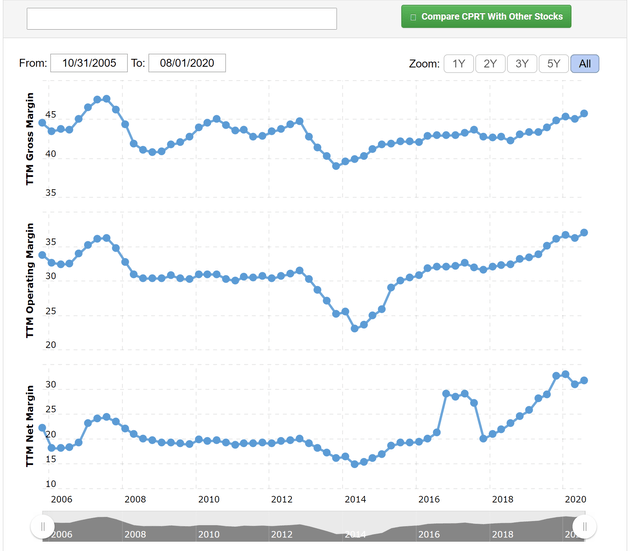 Source: Macrotrends
The operating margin has been consistently above 30% for over a decade.
Copart is a capital-light, conservatively-financed company. The company only has $400 million of debt and most of the salvage yards ($1.5 billion of net property) are owned by the company.
I expect the company to grow revenues 7-9%/yr for the next five years. A lot of this growth will be due to international expansion. The company is currently focused on Germany and Brazil. Long term, the company plans to expand in to China and India.
Assuming margins stay constant, this revenue growth would imply EPS of ~$4.70 in 2025. Applying a 20X multiple would result in a share price of $94. Consequently, I think the current market price of $103 is a significant premium to my valuation of the company.
Conclusion
Copart is an under-the-radar, high-quality, asset-light business. The company is the leading provider (45% share) of auction services in an industry with only 3 major players.
There are tremendous barriers to entry in the salvage car auction industry. First of all, there are only ~150 permitted salvage yards. Second of all, a company must have relationships with insurance companies. Finally, a company needs to have scale of buyers logging in and bidding on the cars. In other words, this is an almost impossible business to replicate.
Despite the moat, I am holding off on buying shares of CPRT. I have the stock on my radar and will initiate a position if it dips to ~$85 in the coming months.
Disclosure: I/we have no positions in any stocks mentioned, and no plans to initiate any positions within the next 72 hours. I wrote this article myself, and it expresses my own opinions. I am not receiving compensation for it (other than from Seeking Alpha). I have no business relationship with any company whose stock is mentioned in this article.