As the COVID-19 pandemic began to sweep across the U.S. earlier this year, I warned investors to avoid Dillard's (DDS) stock. The pandemic peaked at the worst possible moment for Dillard's, as the company has earned the majority of its annual profits in the first fiscal quarter in recent years. Furthermore, with a less-developed e-commerce business than its biggest rivals, Dillard's was poorly positioned to offset lost in-store sales with online growth.
The department store chain's first quarter performance was as bad as expected. However, the company did a remarkable job of clearing out seasonal inventory proactively in the early days of the pandemic, enabling it to improve its Q2 profit margin modestly on a year-over-year basis.
By quickly stemming its pandemic-related losses, Dillard's ensured that its asset value remains intact. With Dillard's stock trading well below book value and management continuing to buy back shares during the pandemic, the Southern department store chain offers a solid margin of safety and plenty of upside for value investors.
The first quarter was awful
Dillard's retail sales (i.e. excluding its small construction subsidiary) plunged 47% year over year to $751 million in Q1, even though the company was slower to close its stores than many other chains. Furthermore, retail gross margin plummeted by 25 percentage points, from 37.8% to just 12.8%. And while Dillard's reduced SG&A spending 28% year over year, SG&A still increased as a percentage of sales.
The net result was that Dillard's lost $228 million before tax and $162 million after tax in the first quarter, which is usually its strongest quarter of the year for earnings.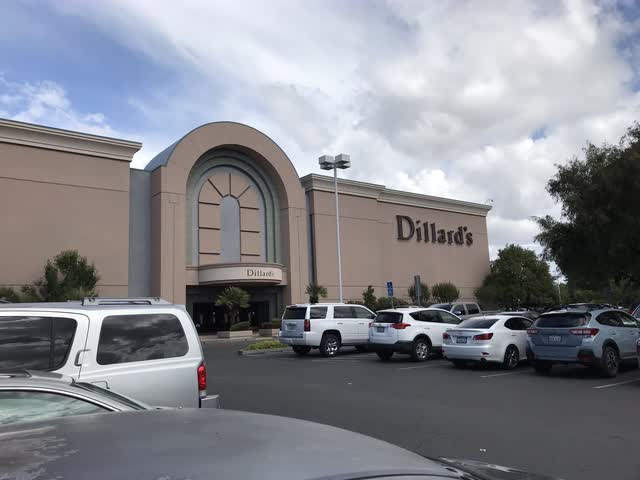 (Image source: Author)
There was one bright spot in the Q1 earnings report, though. Thanks to aggressive clearance efforts that began in late March, Dillard's exited the quarter with inventory down 14% year over year. The company also reduced its orders for the second quarter. That gave it a chance to deliver a comeback performance last quarter.
Q2 was much better
Dillard's sales remained under pressure in Q2, with retail sales of $893 million: down 35% year over year. However, it could have been worse. The chain clearly benefited from what might be called geopolitical factors. Dillard's stores are heavily concentrated in the Sun Belt, and while the pandemic had a big impact in many Southern states over the summer, state and local governments in that region were less likely to impose restrictive stay-at-home orders and people living there maintained more of a semblance of normality (on average) than in the Northeast and West Coast regions.
Between its order reductions and late-Q1 inventory clearance, Dillard's managed to increase its Q2 retail gross margin to 31.1% from 28.7% a year earlier. While the company's Q2 2019 performance had been notably bad, it was still remarkable to post year-over-year gross margin improvement (driven by lower markdowns) during such a period of upheaval.
Meanwhile, Dillard's reduced retail SG&A by 35% in the second quarter: roughly in line with its sales decline. This allowed the company to improve its profitability on a year-over-year basis. Dillard's still posted a $33 million pre-tax loss, but that was better than its $52 million pre-tax loss a year earlier. After factoring in a tax benefit, Dillard's GAAP net loss last quarter was just $8.6 million.
An intact asset play
The core investment thesis for Dillard's is based on the value of its assets rather than an optimistic view of its long-term business prospects. Earlier this year, there seemed to be a risk that this value would melt away due to pandemic-related operating losses. Following the company's better-than-expected Q2 results, that risk now seems more remote.
As of Aug. 1, shareholders' equity on the Dillard's balance sheet was $1.37 billion. Based on the company's late-August share count (see p. 2) of 22.4 million, book value per share is around $60: nearly double the recent share price.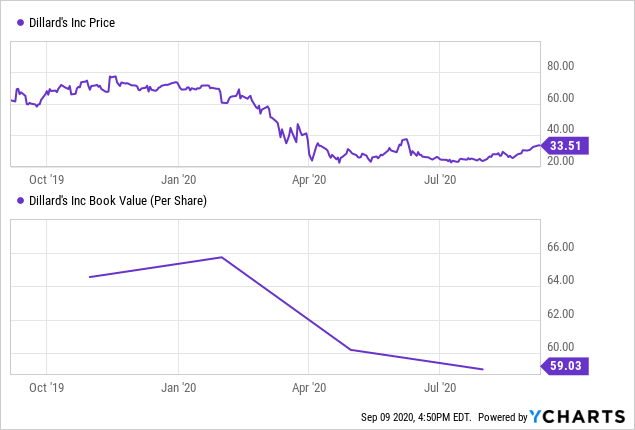 Of course, that raises the question of whether the assets on Dillard's balance sheet are really worth as much as their carrying value. In fact, it's quite likely that Dillard's assets are worth more than their carrying value in total.
First, Dillard's liabilities are quite minimal. The company doesn't carry much debt and owns the vast majority of its stores, as well as all of its offices and distribution facilities. Dillard's liabilities totaled just $1.71 billion as of Aug. 1.
Second, Dillard's liquid assets are substantial. The company ended last quarter with $1.28 billion of inventory. Most of that inventory appears to be current, although there is probably some lingering markdown risk. Adding in cash, accounts receivable, and deferred tax assets, Dillard's has approximately $1.5 billion of current assets: enough to offset most of its liabilities.
Third, Dillard's owns a ton of real estate (see pp. 10-11). As of February, it owned 43.7 million square feet of store space (along with surrounding parking fields, in most cases), as well as 3.9 million square feet of office and distribution/fulfillment center space. The carrying value of all property and equipment on Dillard's balance sheet was $1.4 billion at the end of last quarter.
A value of just $30 per square foot would make the company's real estate worth $1.4 billion. That seems like a worst-case estimate. Dillard's sold six properties last year for a total of $30.6 million: over $40 per square foot. Moreover, Dillard's is mainly closing and selling underperforming stores. Its most valuable locations aren't on the market. Additionally, Dillard's booked about $20 million of gains from its 2019 real estate sales, supporting the hypothesis that its real estate is worth more than book value.
The opportunity – and the big risk
Dillard's posted a GAAP net loss of $7.33 per share in the first half of fiscal 2020, eroding some of its book value. However, analysts expect the company to be profitable in the second half of the fiscal year and to break even (approximately) in fiscal 2021. There's plenty of uncertainty around those estimates, but the period of maximum danger in terms of asset value erosion has passed.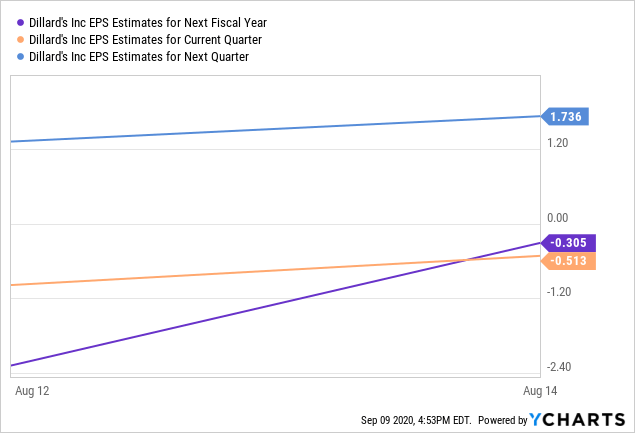 On the flip side, Dillard's has continued its share repurchase program through the pandemic. As the company repurchases stock below book value, book value per share (and asset value per share) increases, all else equal. These buybacks have already offset part of the impact of operating losses on book value per share, and the company has plenty of firepower to continue its buyback activity in the second half of the year.
Ideally, Dillard's management will take a conservative approach in the years ahead, focusing on keeping expenses low and maximizing gross margin rather than trying to grow the top line. If it does so, it could continue to churn out profits and cash flow for a number of years. As particular stores fall below minimum thresholds for return on investment, they can be closed and sold.
Together, positive cash flow and asset sales will enable Dillard's to continue buying back stock aggressively, especially if the share price remains depressed. To the extent that Dillard's stock trades below book value, share repurchases will increase book value per share.
However, this investment thesis relies on management maintaining a defensive posture. The evidence is mixed on this point. On the plus side, Dillard's has used most of its cash flow for share buybacks in recent years and has periodically closed and sold underperforming stores.
On the other hand, the company has also continued to open or expand stores at a steady pace over the past few years, investing in a business that does not have a bright future. (Dillard's already struggles with low and declining sales per square foot, many of its locations are in struggling malls, and many top-tier brands are reducing their reliance on department stores. Dillard's recently lost its Nike (NKE) distribution agreement, for example.)
Members of the Dillard family occupy most senior management roles at the company. The family also owns a controlling stake in the retailer, so outside investors have no real influence on strategy.
To some extent, investors are relying on management's self-interest (they all own sizable stakes in the company) winning out over pride (e.g. wanting to see the family name grace a large network of stores). When the stock was trading around book value at the beginning of 2020, that implicit bet seemed rather risky. But with Dillard's stock trading at a substantial discount to book value and the pandemic making management extra cautious, the risk-reward tradeoff is much more favorable now.
If you enjoyed this article, please scroll up and click the follow button to receive updates on my latest research covering the retail, real estate, airline, and auto industries.
Disclosure: I am/we are long DDS. I wrote this article myself, and it expresses my own opinions. I am not receiving compensation for it (other than from Seeking Alpha). I have no business relationship with any company whose stock is mentioned in this article.