Introduction
Investors are underappreciating the growth Brooks Automation (BRKS) is going to experience over the next five years. The company is positioned to grow overall revenues and operating profits by nearly 2.5x and 4x, respectively, by 2025 as a result of exponential growth in the number of human genomes sequenced.
Brooks Automation provides automation and cryogenic solutions to both the life science market and the semiconductor equipment manufacturing market. The company was founded in 1978 and traditionally offered its products and services exclusively to the semiconductor manufacturing industry. In 2011, however, the company began pivoting into life science, specifically the business of biological sample management and genomics. This was a highly strategic decision as a boom in genetic testing, development of biologics and biosimilars, and interest in personalized medicine has generated strong secular tailwinds to the life sciences.
Full-Service Life Science Company
2019 was a pivotal year for Brooks — the company completed the acquisition of GENEWIZ, a recognized leader in genomics (gene mapping, sequencing and analysis). This marked the company's 12th life science acquisition since 2011. Brooks had already positioned itself at every step of the biological sample management process, but GENEWIZ pushed the company into the higher margin business of genomic analysis.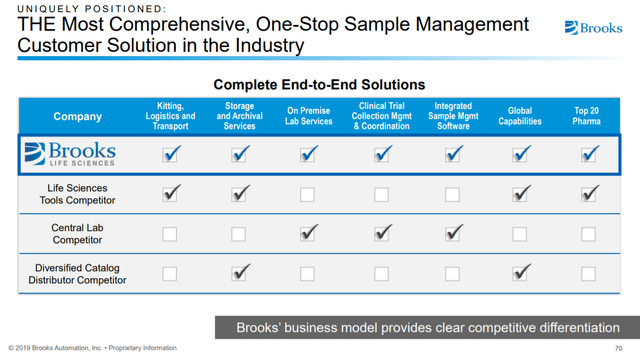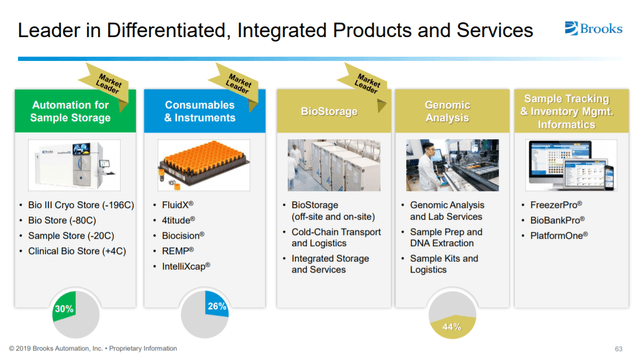 Source: Brooks Automation Investor Day 2019
The Rise of Genome Sequencing
Genome sequencing has seen exponential growth in the past 20 years since the first human genome was sequenced in 2000. The rapidly declining cost of sequencing has been the major impetus, significantly increasing the demand for and ability to collect and analyze human genomes.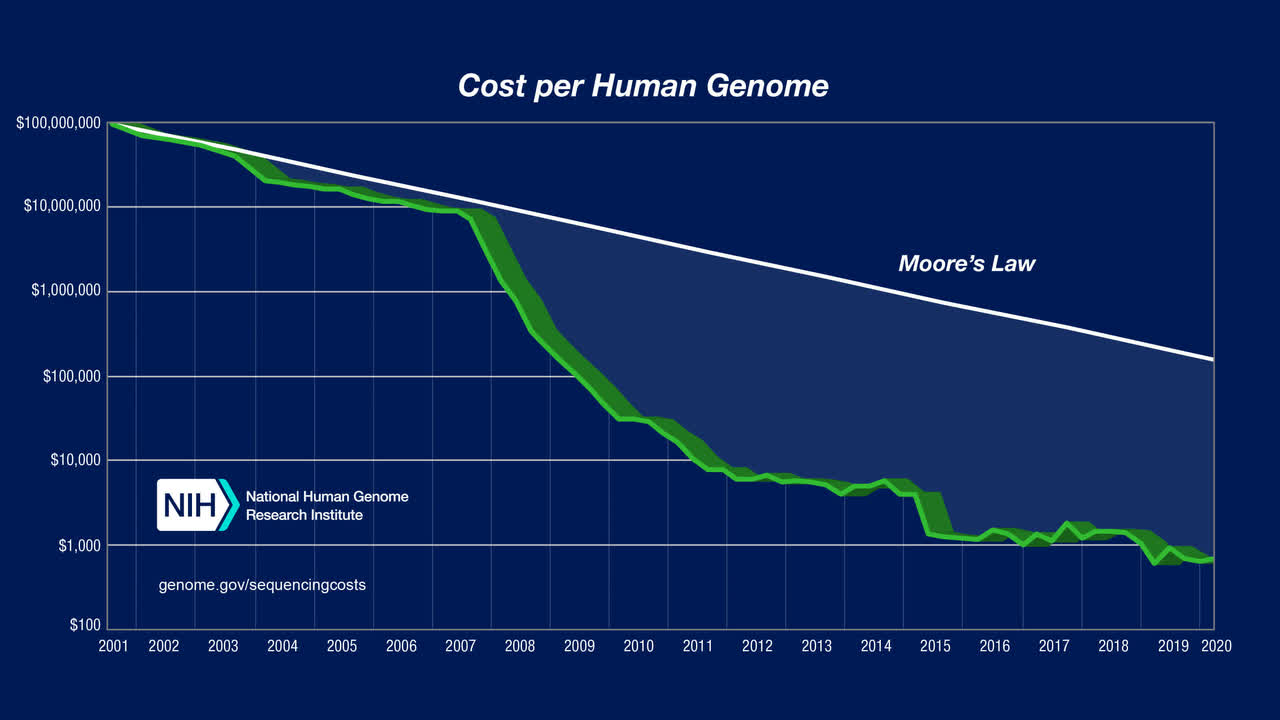 Source: National Human Genome Research Institute
The vast amount of data collected from sequencing is one of the most important resources for the development of biologics, biosimilars, and cell/gene therapies to treat chronic diseases, cancers and other rare ailments. The information collected from sequencing is also essential for other use cases such as in vitro fertilization (IVF), better screening for disease/risks among newborns, and personalized medicine, just to name a few.
The Economist put out an interesting Tech Quarterly this past March that, among other things, discussed the decreasing costs associated with gene sequencing, the corresponding rise in the number of human genomes sequenced, and the implications for personalized medicine. While it's worth reading through the entire issue, there are just a couple things I want to note from it. First, it points out that nobody knows exactly how many human genomes have been fully sequenced to date. Second, a number of organizations and countries have set lofty goals of sequencing a large number of the global population in the next five years. This has caused researchers to estimate that anywhere between 100 million and 2 billion human genomes will be sequenced by 2025.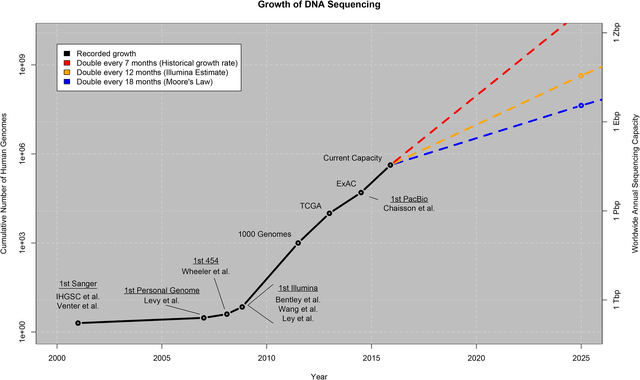 Source: PLOS Biology
Because Brooks is often still categorized exclusively in the semiconductor equipment manufacturing industry, I believe investors are underestimating the magnitude of the impact this growth in sequencing will have on the company. Brooks' management has spent the past decade carefully placing the company directly in the center of all this action as a leader in biological sample management. Each human genome sequenced yields 20 to 35 samples. The exponential growth in the number of genomes sequenced will therefore lead to an even larger number of biological samples that will need to be collected and stored. Brooks' superior product offerings, specifically the BioStore III Cryogenic Storage System (B3C), are going to help the company continue to be a partner of choice among the life science community.
Temperature Matters For Biological Samples
When it comes to storing biological samples for experimentation, colder is better. DNA samples are highly unstable, so extremely careful handling and cold storage is required to avoid sample degradation. Providing a freezer storage option that automates sample handling at the lowest temperatures is thus the ideal product. The majority of companies in this market, including Brooks, offer ultra-low freezers that can reach temperatures as low as -80 degrees Celsius and prevent the degradation of many biological molecules. However, cryogenic freezers are required to prevent the degradation of all biological molecules. Cryogenic freezers operate at temperatures between -150 and -190 degrees Celsius. Brooks' B3C is the only solution in the market that fully automates sample handling and storage at temperatures below -135 degrees Celsius.
The main reason for this has to do with Brooks' exclusive license in sample management on PharmaSeq's p-Chip technology. Samples are given unique barcodes when they are stored, which makes it easier to automate the tracking and locating of samples in storage. However, when glass is exposed to temperatures below -135 degrees Celsius, it enters the glass transition phase, or the point at which a layer of ice covers the vial. Traditional barcode readers cannot scan after this point, but p-Chip technology makes it possible to read a barcode even if it has a layer of ice covering it. All other freezers in the market that reach cryogenic temperatures must thaw samples to a temperature above -135 degrees Celsius in order to read the barcode. This freeze-thaw cycle produces an added risk of sample degradation. Brooks' exclusive license thus makes the B3C the only freezer in the market that ensures fully automated sample handling with no risk of sample degradation. This will continue to become increasingly valuable as cryogenic (genomic) samples grow from ~2% of total samples today to ~15% by 2025.
BioStore III Cryogenic Freezer Estimates
Given the PLOS graphic above, I estimate that we reached one million genomes sequenced in 2017 and going forward that number is doubling every 15 months. This is between the estimate given by Illumina (ILMN) of doubling every 12 months and Moore's Law, which implies doubling every 18-24 months. I also estimate a deceleration in this growth in 2020 and 2021 as a result of the pandemic.
Using $125K as the price for the B3C (3Q19 earnings call) and 123,480 as its capacity for 1ml samples (product website), I've modeled out the additional revenue the B3C can contribute over the next 5 years.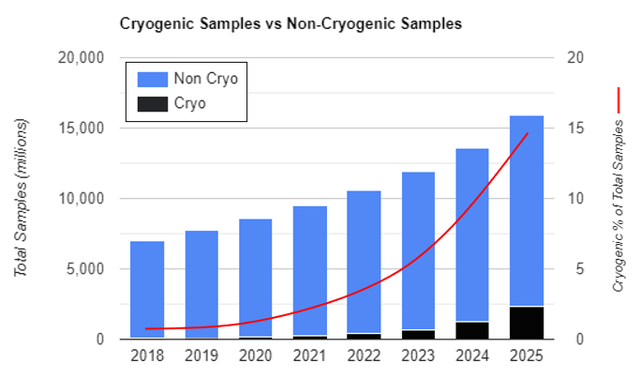 Source: Author-generated, author estimates
Note, I use the estimate that each genome sequenced yields 27.5 samples to get to the cryogenic sample figures, as the standard is to divide each sequenced genome into 20-35 samples. I derived the total global samples figure from both Brooks' 2018 and 2019 Investor Day presentations.
Digging into the note I have in the 2020 column of the model above regarding new B3C shipments, Brooks had a fantastic first half of its fiscal year with 1Q20 being the largest quarter ever in terms of B3C orders. As noted on the Q1 earnings call, 25 units were ordered by one customer alone, a leading IVF company (TMRW Life Sciences). On the 2Q20 earnings call, CEO Stephen Schwartz noted that the B3C was shipped to nine different customers in the quarter. Taking those two points, I estimate roughly 40 B3C units were shipped in the first half of the company's fiscal year 2020. Taking into account the uncertainty stemming from the pandemic, and the fact that management didn't note a number for B3C shipments on the 3Q20 earnings call, I estimate roughly 65 shipments in 2020. 65 units would hold ~8 million samples in total, which represents about 18% of the estimated new cryogenic samples for the year. I lock that number as my estimated market share for Brooks in the cryo freezer space, although I suspect that number is higher in reality (when in doubt I prefer to be conservative).
Outsourced Samples Under Management Estimates
Roughly 26% of the sample storage process is outsourced currently (2019 Investor Day presentation). Brooks' management team has discussed at length how they are witnessing trends towards further outsourcing as it's becoming more difficult for researchers in pharma, biotech, and academia to handle the exponential growth in samples solely in house. Brooks has several storage facilities, the largest located in Indianapolis, which has the capacity to hold roughly 150M samples alone. With my estimate of 59M overall samples under management in 2020, Brooks has plenty of opportunity to increase this part of its business without additional capex required.

The notes in the 2021 column are references to management targets. For total samples outsourced, management targets 2.5B. For samples under management, management targets 60M, and for revenue per sample management targets $4 (from $2 in 2018) based on a number of value-add services they expect to continue offering. I project a more conservative ramp up to that $4 price.
GENEWIZ Estimates
According to Brooks' presentation for the Needham Growth Conference this past January, GENEWIZ's revenue can be broken down as follows: next-generation sequencing, 35%; sanger sequencing, 32%; gene synthesis, 25%; other, 8%.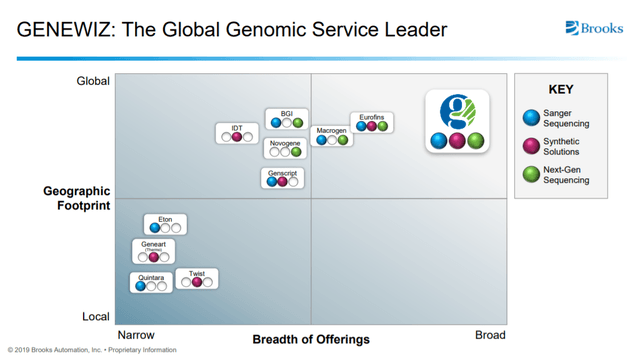 Source: Brooks Automation Investor Day 2019
Next-generation sequencing is estimated to grow at a ~21% CAGR through 2025. Sanger sequencing is estimated to grow at a ~14% CAGR through 2025. Gene synthesis is expected to be the fastest growing area of the three, estimated at a ~29% CAGR through 2025. Based on these estimates, as well as a 9% CAGR for the "other" category representing the estimate for overall growth of the global genomics market, the weighted average for GENEWIZ comes out to a ~20% CAGR through 2025. I expect that GENEWIZ will continue to capture market share, leading to a 23% CAGR for the business from 2021 to 2025, following an estimated 30% growth in 2020.

Pointing to that note I have in 2022, management targets revenue of $240M.
Life Science Is Becoming A Big Data Business
This growth in sequencing won't just be a boon for Brooks' life science business. Both segments, semiconductor solutions and life science, are actually positioned to become more intertwined than ever in the coming years. According to the 2015 paper published by PLOS Biology, genomics is on track to become the most demanding domain in terms of data acquisition, storage, distribution and analysis. Each human genome sequenced produces ~100 gigabytes of data. By 2025, this means genomics could require up to 40 exabytes of storage alone per year. For reference, the authors estimate that YouTube will require only one to two exabytes of storage per year by 2025, which equates to 1,000-1,700 hours of video being uploaded per minute. My estimate of ~85 million human genomes sequenced by 2025 implies that more than 8 exabytes of storage will be required to process that amount of genomic data, still far beyond that required by the next closest domain.
More than ever, modern science needs extreme advances in computational ability. In order to handle this level of data, the amount of computing power required would in some cases need to be 10,000 to 1,000,000 times faster than current capabilities. Semiconductor chips are only getting smaller, so to meet these demands we need far greater computing power in far less space. As CEO Schwartz noted on the 3Q20 earnings call, manufacturing smaller chip nodes leads to an increase in the number of automated manufacturing process steps required as well as a greater emphasis on contamination control. Packing in the multitude of parts required in such a limited amount of space means that it takes just one very small rogue particle in the wrong place to cause defects and render a chip useless. Schwartz pointed out that Brooks has consistently outperformed the overall semiconductor equipment market because its product and service offerings more reliably address these issues than those of competitors, resulting in market share gains. Even more reassuring, those market share gains were locked in years ago. Brooks' products were designed into processing equipment for the new five and seven nanometer chip nodes several years ago.
According to Brooks' 2019 Investor Day, its contamination control business held a 57% market share in 2018 and management expected the market to grow at 19.5% per year through 2022. Brooks doubled the number of customers for its contamination control solutions business from 2014 to 2019, and I expect the momentum to continue. I therefore see the business growing slightly faster than the market at 20% annually through 2022, then at a 16% CAGR through 2025.

Management targets between $580M and $680M in total semiconductor solutions revenue by 2022.
Margin Profile & Comparable Valuations
Putting it all together, below are my estimates for the overall business units as well as margin forecasts. All of the red notes in the models below refer to management targets, which I'll explain. The targets can all be found in the 2019 Investor Day presentation.

Management targets between 42-44% for gross margin and 20-22% for operating profit by 2022.

Management targets between 42-44% for gross margin and 15-18% for operating profit by 2022.

Management targets between 48-52% for gross margin (no growth) and 14-18% for operating profit by 2022.

Brooks has a solid history over these past few years of expanding its margin profile, giving me confidence management has the ability to reach or exceed their profitability targets for each segment.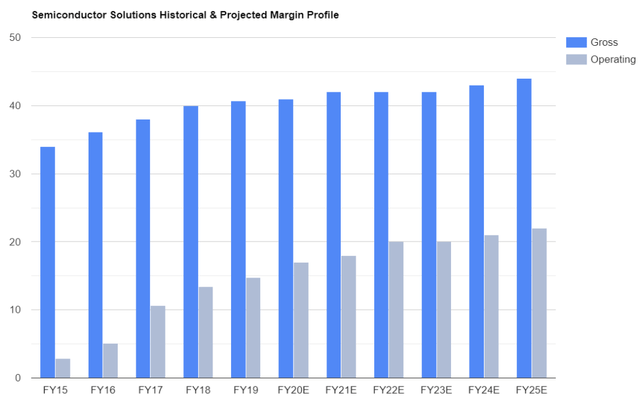 Source: Author estimates, management targets, company filings
Because of the distinct business segments Brooks has, it makes the most sense to value the company on a sum-of-the-parts basis. I use a multiple on next fiscal year operating profit for the semiconductor solutions segment because of the longer history of profitability there. For life science, I prefer to use a multiple on revenue because Brooks' life science segment is only just starting to generate solid profitability. Below are companies that operate within each of Brooks' distinct business segments and their respective valuations.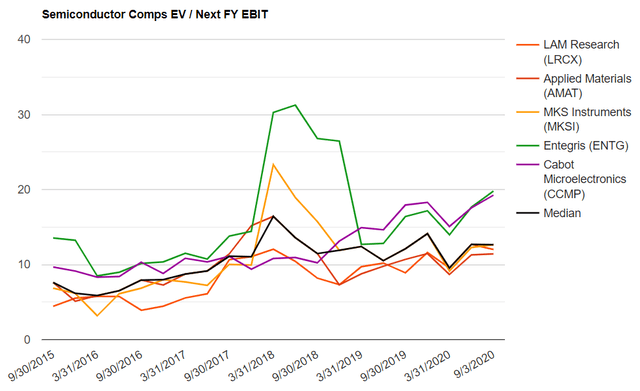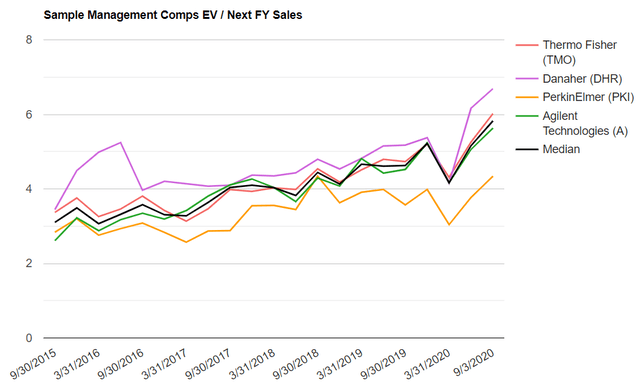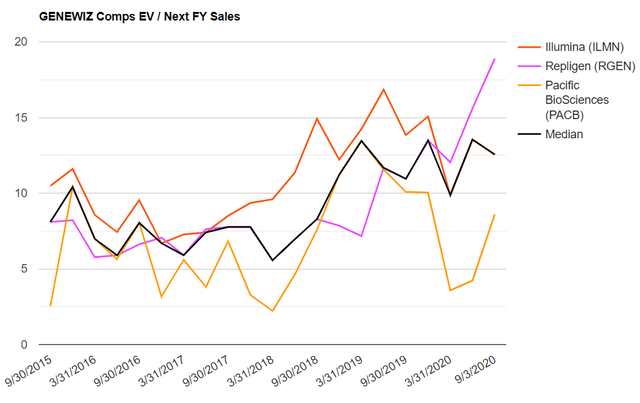 Source: Author-generated, company filings, Bloomberg
Valuation
Using the comparable company multiples above, I've modeled out my 12-month target price. Net debt and shares outstanding are as of Brooks' 3Q20.

For semiconductor solutions and sample management I use multiples slightly above the median, taking into account the five year upward trend and the expectation for Brooks to expand margins. For GENEWIZ, I actually discount the current median of 12.5x and apply a 10x multiple. GENEWIZ is currently significantly smaller than the comps I used and I assume those multiples have a slight size premium baked in.
Below I show my target price for 2024. Note, as Brooks continues to execute on its strategy and reach the targets management has set for revenues and margins down the line, I expect the valuation multiples to expand upwards from their current levels. Despite this expectation I use the same multiples for the 2024 valuation as I used today, to be conservative.

Risks
The major risk is that genome sequencing growth decelerates significantly or halts because of slower innovation in computing power. This would limit Brooks' ability to reach my growth expectations. There's also execution risk on the part of management. There's an expectation of margin expansion in all of Brooks' business segments moving forward, but the company has also been very acquisitive over the past 10 years. If that continues, higher costs related to acquisitions could be a drag on profitability.
Conclusion
Brooks Automation has an extensive runway to continue growing. Management has spent the past decade preparing the company for explosive growth in the life science industry. Investors don't seem to be fully valuing the growth opportunity resulting from Brooks' unique position in the space, offering significant upside for long positions in the stock. The rapid growth in human genome sequencing will directly benefit Brooks' sample management, genomics, and semiconductor solutions businesses. As the company continues to execute well on its strategy and gain market share in each business segment, its stock will continue its upward trajectory to $90 next year and eventually $170 by 2024.
Disclosure: I am/we are long BRKS. I wrote this article myself, and it expresses my own opinions. I am not receiving compensation for it (other than from Seeking Alpha). I have no business relationship with any company whose stock is mentioned in this article.