I wanted to look at some stocks that are more "recession-resistant" in order to build up the defensive side of my portfolio. Berry Global (BERY) came in one of my screens, and I wanted to do some due diligence. I believe the company is a safe business with reasonable growth ahead.
Just a brief background on the company, Berry Global is a plastic manufacturing company that makes a wide assortment of products (100,000+ items manufactured) particularly packaging and materials solutions. The company maintains relationships with virtually all of the major fast-moving consumer goods companies such as Kraft Heinz (NASDAQ:KHC), Nestle (OTCPK:NSRGY), P&G (NYSE:PG), and Clorox (NYSE:CLX) among many others. The company operates on three major segments namely Consumer Packaging, Engineered Materials, and Health, Hygiene, and Specialties. The Consumer Packaging segment which makes up 60% of the company's revenue manufactures containers for everyday consumer items like jars, tubs, cups, and lids, etc. Basically, they create the plastic packaging for your yogurt and condiments. Engineered Materials provides things like food bags, trash bins, retail grocery bags, etc. Finally, the Health, Hygiene, and Specialties segment manufactures medical garments, surgical drapes, cleaning wipes, etc. Engineered Materials and Health, Hygiene, and Specialties segments each consists of 20% of the company's revenue.

Company presentation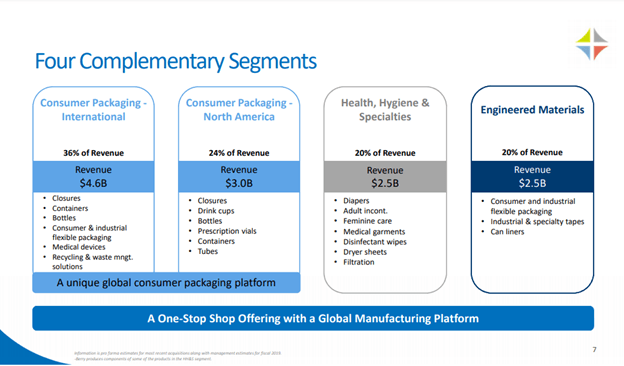 Company presentation
The wide assortment of products is a strength of Berry Global as it is in the incredibly competitive plastic manufacturing industry. Given that plastics manufacturers are in a low cost, low margin commodity products environment, it is important to not be overly reliant on one product line for the bulk of your profits.
Berry Global doesn't necessarily have pricing power with its products, and its main competitive advantage comes with its scale. Economies of scale when it comes to operations involve being able to better spread fixed costs around the bigger base as well as get more favorable terms with suppliers. The company is one of the largest resin buyers in the world with 7 billion lbs purchased annually. Compared to its peers, Berry Global has average margins of 9.8% for the past five years. Most of the industry, though, has margins at the 8%-10% range with the much smaller Sealed Air (SEE) being the exception to this rule. I am not too worried about the company's EBIT margins as the industry is mature, and Berry Global isn't too far off from the average. By being among the lowest-cost producers, Berry Global and its peers form an economic moat around the business and prevent the entry of new competition.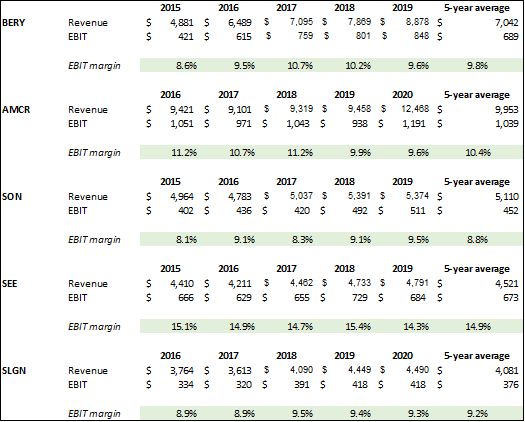 Author calculations using data from Seeking Alpha
In terms of fiscal Q3 2020 results, the company had a good quarter. Revenue was up 50% to $2.9 billion and operating income was up 61% to $347 million. The bulk of this increase, however, was due to the recent acquisition of RPC Group. In terms of organic growth, revenues were up 2%, with the strength in consumer goods and health segments being offset by the decreased sales from industrial customers. This makes sense as most fast-moving consumer goods products have performed really well. As people are stuck in homes during lockdowns (i.e. can't eat out), FMG products become a bigger share of wallet. Cleaning products in general have been flying off the shelf due to the sanitization requirements due to COVID-19. Excluding the one-time bump due to COVID-19, management states that the company grew in the high single digits.
Growth by Acquisition
The company in recent years has pursued a "growth by acquisition" strategy. It has performed 46 acquisitions to date and successfully integrated these companies into Berry's operational framework. On average, the company gains 5% of the acquired target's revenue in synergies. This is actually incredibly impressive, given the tight margins typically associated with manufacturing. Its most recent acquisition is RCL another packaging company that was a leader in plastics and recycling packaging in Europe. The company forecasted that this merger would generate $150 million in annual cost savings and was accretive to earnings and free cash flow. The company took on significant debt to finance this acquisition as long-term debt jumped from $5.8 billion in fiscal 2018 to $11.2 billion in fiscal 2019. The company has made strides to pare this debt down, though, as debt, as of June 2020, is down to $10.7 billion.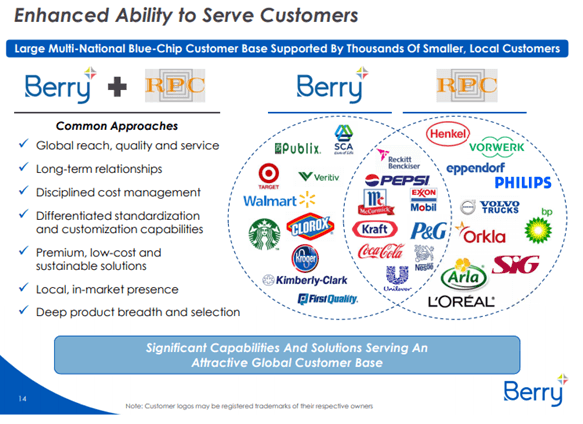 Company presentation
Given the record-low interest rate environment, I believe growth by acquisitions is a smart strategy for the company to pursue. The company has an experienced management team who have proven themselves knowledgeable on how to deploy capital in a disciplined way as well as properly realizing merger benefits and synergies. The market of plastics is still fragmented with the top 3 players only having roughly a quarter of the market share. This means that there are still significant opportunities for value-added acquisitions.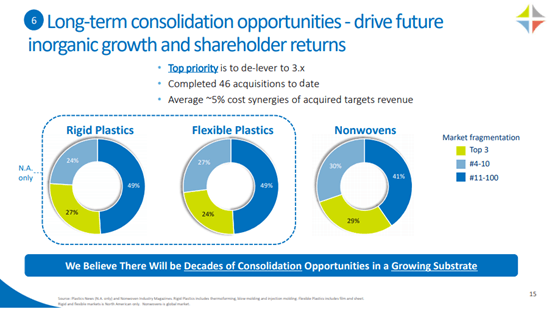 Company presentation
Valuation
Given the large amount of debt of the company, I decided a DCF approach would be the best way to value Berry Global. Note in terms of valuation, I made the decision to ignore the short-term effects of the coronavirus in 2020 when forecasting the long-term financials of the company.
Since the company has had a large number of acquisitions, we cannot use the historical revenue growth rate. To forecast the 5-year revenue growth rate, I used the company's organic growth rate of 2-3% and the company synergies acquired of 5%. A terminal growth rate of 3%, slightly higher than this year's organic growth rate, seems reasonable in my view. The company also disclosed maintenance CAPEX of about $310 million in its investor presentation.
To calculate the discount rate for the company, I used an equity risk premium of 6.5% from the June 2020 KPMG report and a risk-free rate of 4.43%. Berry Global has a low beta of 0.87 which I've applied to the equity risk premium. Putting this all together gives us a discount rate of 10.2% which I used to calculate the unlevered discounted cash flows.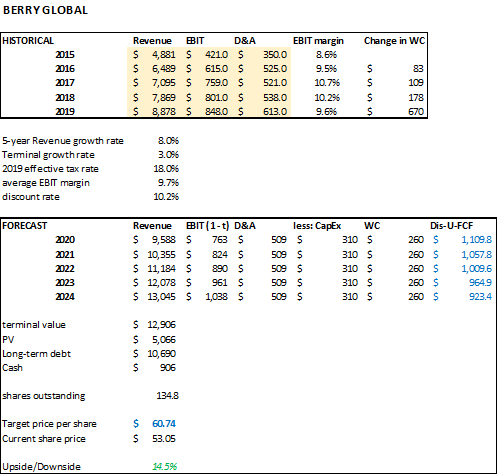 Author calculations using data from Seeking Alpha
We calculate the enterprise value by adding the present value of the firm's operations, while subtracting net debt gives us an EV of $29.5 billion. Dividing this EV by 134.8 million shares outstanding, we get a share price target of $60.74, which implies a 14.5% upside. This indicates to me the firm is fairly valued. Using Buffett's logic of a great business at a good price, I believe that Berry Global is a Buy.
Key risks to thesis
1. A key supply ingredient to Berry Global's products is plastic resins which are derived from oil. So, the company's costs could increase should the price start to rise in the future. However, given the current state of the oil industry, I believe this risk is unlikely.
2. A long-term risk to the company is the nascent trend of shifting packaging and other products away from plastic into more "eco-friendly" options. The company is developing new products to address this, though, and is trying to stay ahead of the trend.
Disclosure: I/we have no positions in any stocks mentioned, but may initiate a long position in BERY over the next 72 hours. I wrote this article myself, and it expresses my own opinions. I am not receiving compensation for it (other than from Seeking Alpha). I have no business relationship with any company whose stock is mentioned in this article.
Additional disclosure: Caveat emptor! (Buyer beware.) Please do your own proper due diligence on any stock directly or indirectly mentioned in this article. You probably should seek advice from a broker or financial adviser before making any investment decisions. I don't know you or your specific circumstances, therefore, your tolerance and suitability to take risks may differ. This article should be considered general information, and not relied on as a formal investment recommendation.