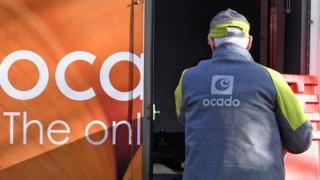 Online grocer Ocado says its switch to delivering Marks & Spencer food has been "successful" and demand is rising despite a rocky start.
The firm, which previously delivered for Waitrose, had to cancel some orders when its new partnership launched on 1 September, angering customers.
But it said launch day had been its "biggest forward order day to date" amid excitement about the new tie-up.
Average shopper baskets have also grown by about five items since then.
It comes as the firm reported a 50% jump in sales for the third quarter of the year at its Ocado Retail business, in which M&S holds a 50% stake.
Ocado said it had benefited from continued strong demand for online shopping during lockdown, with weekly orders climbing 10% in the 13 weeks to 30 August.
Ocado cancels orders on first M&S delivery day
Ocado halts
…
Read More